Rocking for the kids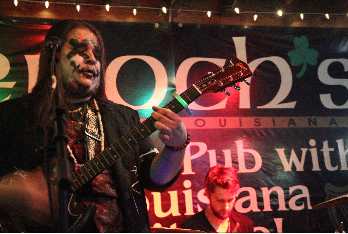 Olivia Barfield
November 14, 2016
Hang on for a minute...we're trying to find some more stories you might like.
Sometimes fundraising rocks. It definitely did Saturday night.
Local bands came to compete for the kids of St. Jude at Up 'til Dawn's second annual Battle of the Bands at Enoch's Irish Pub.
The event hosted nine different bands who performed 20-minute sets and competed for first, second and third place prizes.
"Jig the Alien" came out on top and won the judges hearts, but ended up beating second place band " e Lousy Anna's" by a margin of only four points.
The crowd "passed the hat" and monetarily voted for a fan favorite. e winner was " is Kids Epic," who was also awarded a prize.
In total, over $700 was raised from fan favorite donations alone. Even more was raised from donations from Enoch's, who gave 20 percent of all food profits sold to St. Jude Children's Research Hospital in Memphis, Tenn.
Dustin Hickman went to the event to hear the bands and support St. Jude.
After only seeing two bands, Hickman said he was impressed with how many local bands came out.
"I didn't think there were so many bands around here…they're all pretty good too. I'm hoping to see what everybody else is," said Hickman, a senior risk management and insurance major.
Shelbi Penny, Up 'til Dawn Sponsorship Chair, played a large hand in organizing the event and was glad to see it come together. Penny contacted the bands and said that they were stoked to help with the fundraiser.
She added that the event is so successful because it reaches a new audience.
"It's the whole community. It gets our name out there, plus it provides a mean for a whole different group to get (out there)," said Penny, a senior math major.
Up 'til Dawn is a student-led organization whose sole purpose is to raise money for St. Jude all year.
The organization has raised over $16 thousand this year for the kids of St. Jude.
Last year, Up 'til Dawn hosted fundraisers such as the 5k Foam Run, t-shirt sales and giveback nights. Members also personally fundraise.