Women's basketball loses close one to Grambling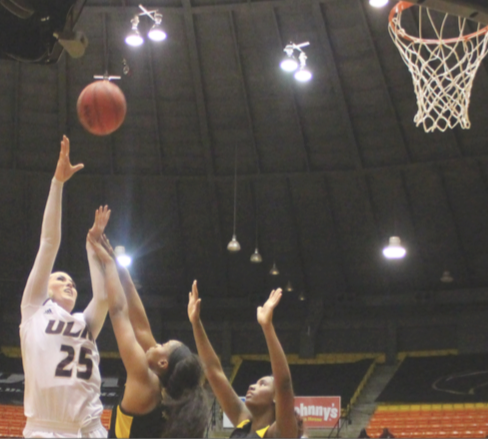 Hang on for a minute...we're trying to find some more stories you might like.
The women's basketball team took the court on Tuesday against Grambling State in what proved to be a matchup that came down to the wire.
With the power forwards and centers getting into foul trouble late, it was Grambling that capitalized in the final minutes and took the game by a final score of 59-54.
"We got o to a slow start, rallied and went into halftime with a 10-point lead.
They started the second half quick, and I felt like we never really totally recovered," said head coach Je Dow.
Besides the fouls, the turnovers also became a key aspect of Grambling's win at Fant-Ewing Coliseum on Tuesday.
e Warhawks turned the ball over a total of twelve times and on multiples plays late in the game that could have resulted in key points.
With a ten point lead heading into halftime, it appeared as if the Warhawks could build a bu er between them and Grambling. But the pressure from Grambling's quick defense proved to be too much in the second half.
"We have to move on. We did some good things in stretches tonight. We have to learn from this game. We have a lot of newcomers – whether it be junior college players, freshmen or even some of our returning players in different roles than they had last year."
Looking ahead, the Warhawks will face LSU-Alexandria on Tuesday night at Fant-Ewing Coliseum. Come out and support our ladies as they look to bounce back at home.