If 'Lemonade' was better, '25' wouldn't have won
Adele's victory was definitely sweeter than any flavor of lemonade. She deserved the win.
I'm sure we all know by now that Adele took home Album of the Year at this year's Grammy Awards for her album "25" over Beyoncé's "Lemonade."
Beyoncé fans took to social media to share how disappointed they were that she didn't win.
Adele herself said during her acceptance speech that she thought Beyoncé deserved it.
But here's why the right artist took home the award.
First of all, Beyoncé fans were saying this was a race thing. It's not.
Art is subjective. We need to stop trying to make everything about race.
I agree that the system is broken, but that's because the majority of the voting Academy is white. But Adele didn't win the award because she is white. She won the award because she had the better album.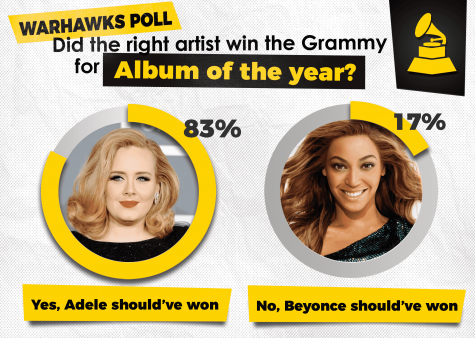 "Lemonade" was just not made for everyone. Adele said it herself. She said, "it made my black friends stand up for themselves." Which is great, but what about everyone else?
And "Lemonade" wasn't made widely available for everyone. You could only listen to it if you bought it, and you could only stream it on the Tidal app. That's Beyoncé's fault.
The truth is not very many people know the songs from "Lemonade." In fact, her biggest fans are probably the only ones that do.
People may have heard "Formation" and "Sorry," but that's only if they listen to the radio. Still, neither of those songs combined got as much radio play as Adele's "Hello."
A lot of people know "Hello," "Send My Love," "Water Under the Bridge" and "When We Were Young."
The Grammys are not about race or popularity. It is about the quality of music. While "Lemonade" was over-produced, "25" was simplistic and beautiful and everyone could relate to it.
I think Beyoncé put more work into "Lemonade," but that doesn't mean Adele is any less of a hard worker. She said herself that "25" was not easy to make.
Adele was right that Beyoncé, with this album, showed everyone a side of her that we haven't seen before. But in my opinion, it's not her best work. She needs to go back to making songs like "Halo" and "Irreplaceable" where she would really sing.
She did too much talking on "Lemonade." It's like her Grammy performance. The first three minutes of the performance was nothing but visuals of her, her family and her baby bump while audio of her reciting a poem played.
Don't get me wrong, the visuals for "Lemonade" were genius, but the music itself didn't make it Album of the Year-worthy.
Beyoncé is a great performer and she has a great voice. But I think over-all, she's overrated. She'll release a secret album or post on social media that she's having twins, then she'll break the Internet because that's all everyone talks about. But two weeks later, you hear nothing.
No one is playing "Formation" anymore, but Adele's songs are everywhere.
My point is, if "Lemonade" was the better album, it would have won the award.
Adele deserved the award and so did Beyoncé. Otherwise, she wouldn't have been nominated in the first place. At the end of the day, however, the right woman took it home.
The top three awards are Song of the Year, Record of the Year and Album of the Year. There's a reason Adele is the first female artist in history to ever win those top three awards twice.
That's because there is just something about her music that everyone loves.