Warhawks squander 4th straight conference game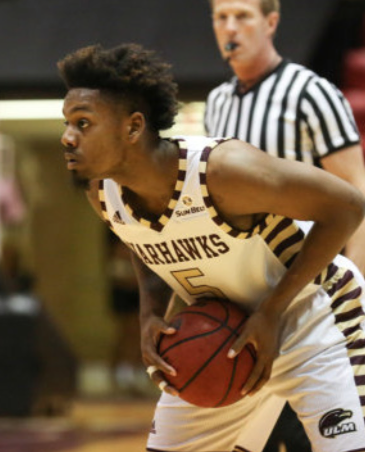 There wasn't much love in overtime for the Warhawks on Monday night as the team suffered its fourth overtime loss of the season, losing to Troy by a nal score of 73-72.
Marcus Washington had a career high of 18 points while Marvin Jean-Pierre had a perfect game o the bench posting 13 points, shooting 6-6 from the eld.
"Marques, Travis and Marvin are the reason we had a close game, they gave us a chance to win," said head coach Keith Richard.
The game got o to a fast start when the Warhawks came out ring, knocking down two from behind the arc. Troy struggled for the most part in the first half. the Trojans couldn't connect on some favor- able attempts from the eld.
As the Warhawks knocked down their 10th eld goal of the game, the Trojans felt the pressure and called a timeout to settle down their team.
The Warhawks faltered a bit, letting the Trojans back into the game and cutting an 11-point lead to six with five minutes to go in the first half. e Warhawks then kept the foot on the gas pedal and finished the first half on a good note.
The Warhawks' defense was solid in the first half. They were winning the hustle plays and making it difficult for the Trojans to get into their offensive sets. They also excelled in distributing the ball, post- ing 11 assists as a team.
The Trojans shot 11-32 from the eld, 32 percent, while the Warhawks shot a cool 14-32, 44 percent. ULM headed into half time up 33-27. "Great game, it was back and forth on both sides."
The Trojans came at ring at the start of the second half, going on a 12-2 run to tie the game up at 35. e Warhawks seemed to falter on offense as the Trojans lead by three with 11 minutes left in the second half. e Warhawks and Trojans went back and forth as both offenses were be- ginning to consistently score.
The game was neck and neck, tied at 60 with a 1:28 left in the second half. Where Troy knocked down a tough 3-point jump- er from the top of the key, leading the Warhawks 64-62 with 45 seconds left.
Luckily, the Warhawks were able to rely on sophomore Travis Munning to tie the game up late and force overtime.
However, in overtime the Warhawks were hit with the clutch 3-point shooting from Troy late that would end up stealing the game for the Trojans, 73-72.