Coppola leaves mark on ULM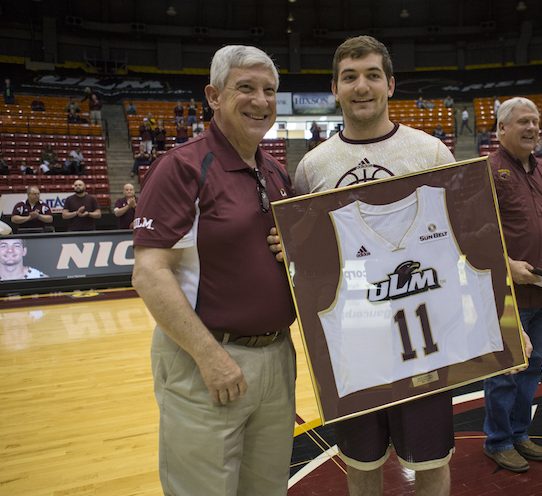 Three seasons ago the ULM Men's basketball team saw a complete makeover of their program and hasn't looked back since. One of the main reasons for their continued success is in point guard Nick Coppola.
Coppola came to ULM in the fall of 2013 where he immediately saw playing time and, as a freshman, averaged 33.7 minutes a game. While the Warhawks would go on to finish the 2013-14 season with a 10- 17 record, Coppola and his teammates were just getting started.
His sophomore season put him on the map as he lead the Warhawks to overtime against #8 ranked Florida early on. But it was the end of that season that made heads turn.
Coppola and his teammates fell in the Sun Belt Conference Tournament but were welcomed to the College Basketball Invitational Postseason Tournament.
The men in maroon went on a run that spring that will seal their names in the ULM Hall of Fame. While they may have lost to Loyola-Chicago in the finals, they brought life back to Fant-Ewing Coliseum.
"We went on a great run, and that's something I'll look back on and cherish forever," Coppola said.
On Saturday, Coppola was honored in a pre-game ceremony alongside fellow seniors Marcus Washington and Prince Cooper.
"It was great to have my family here; they have supported me through the four years and before then, so I was really glad they were here," Coppola said.
While the Warhawks couldn't get a win, Coppola and his fellow seniors ended their careers in respectable fashion losing to Texas State 70-65.
After the game, Cooper talked about how Coppola can be a difference maker in any game.
"Nick came up big time for us the last three seasons since I've been here," Cooper said.
"He played big minutes for us and is a great passer."
Heading into the conference tournament in 2016, Coppola became the all-team assist leader when he recorded number 401 to surpass Larry Saulters.
Coppola has already graduated from ULM with a degree in Risk Management and is working on his Master's in Sports Administration.
While these seniors may have found their careers come to end sooner than they wanted, they all still plan to stay around the sport of basketball in their future endeavors.
One thing is for sure, twenty years down the road we will still be talking about Nick Coppola and his 2014 season.
Leave a Comment