Beach Hawks back to winning on road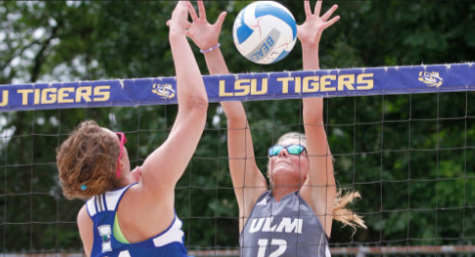 Hang on for a minute...we're trying to find some more stories you might like.
After losing for the first time in two years at home, the ULM beach volleyball team looked to turn things around on the road. They did just that when the team went undefeated on the weekend in Tennessee.
The Governors Beach Bash tournament featured teams from the University of Tennessee Martin, University of Alabama Birmingham, Austin Peay and Morehead State.
In Friday's games, the Warhawks were able to overcome adversity as the ladies took the first match against Austin Peay by a score of 4-1. After the match. Coach Hiltz talked about how proud he was to see them rally around each other.
"We had a little trouble getting started this morning but still played well enough to get the win against Austin Peay. A little hiccup at the ones this morning cleaned up into a dominating performance," Hiltz said.
In the first match on Saturday, the team soundly defeated UT Martin, but going into the last match of the day, the Warhawks would have to fight hard for the win in order to go undefeated for the weekend.
"In my five years of coaching beach, I've never seen a match like the one we played against UAB today," Hiltz said.
With the teams tied at two a piece, it came down to seniors Claire Crossfield and Kori Simpson to secure a Warhawk victory.
In the first set, Crossfield and Simpson lost 29-27, but after words of encouragement from Hiltz, the pair was able to rally and win the second set by a score of 22-20. Simpson complimented Hiltz's coaching after the game.
"Coach Pat has helped me improve my game in more ways than one. He has taught me to maintain composure and perseverance which has given me an edge against our competitors," Simpson said.
The Warhawks used their momentum from the third set to take the lead in the final set. ULM ended up taking the set 15-10 and the match 3-2 to remain undefeated on the weekend.
After the weekend, Hiltz touched on the fact that the team had lost to UAB earlier in week one of their season, and he's very proud that they were able to avenge the loss and show development.
"The win shows how much we've improved, and that improvement is a reflection of every one of these young ladies' hard work," Hiltz said.
The Warhawks will now look to finish their season strong and prepare for the NCAA beach volleyball national championships, which will be held in Gulf Shores, Ala. starting Thursday May 4.