Tropical storm Cindy could cause more flooding in Monroe/West Monroe area
Rain, rain, go away.
Flash flooding, and other severe weather conditions, are possible throughout Louisiana due to Tropical Storm Cindy in the Gulf of Mexico.
Cindy is expected to make landfall Thursday near the coast of southwest Louisiana and southeast Texas.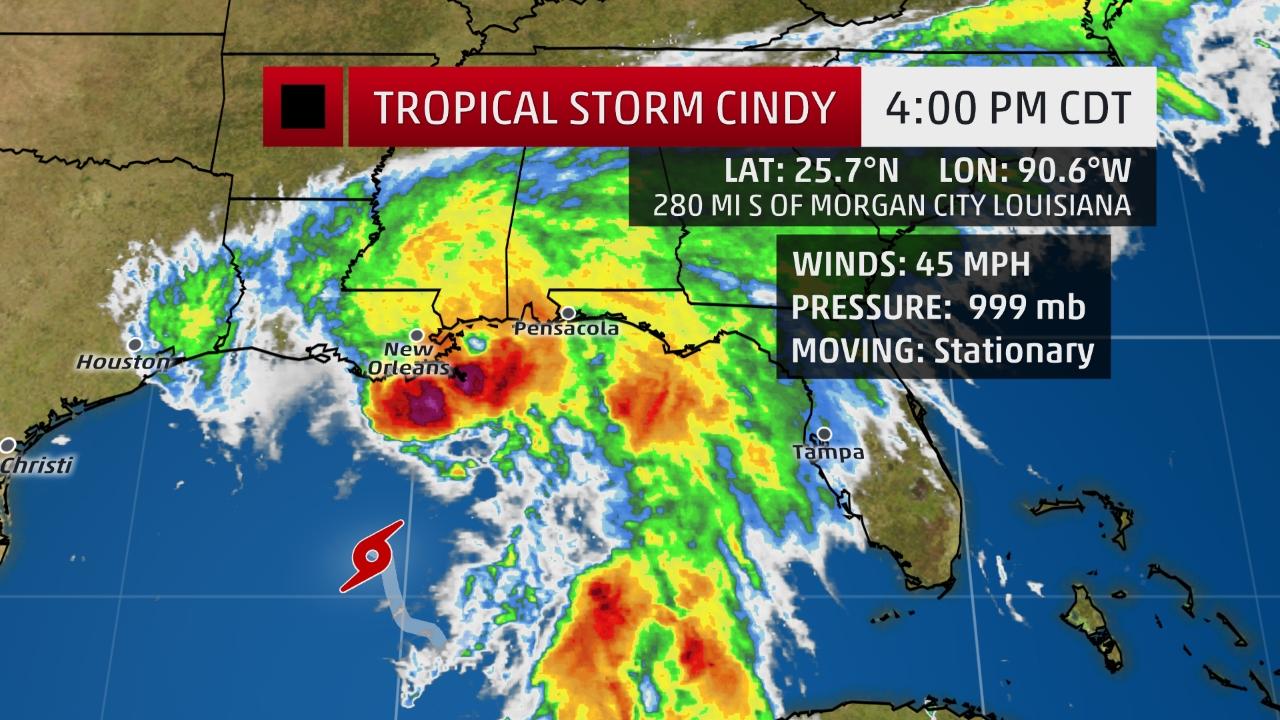 Most of the Monroe/West Monroe area is already under a flash flood warning until Friday.
This comes only two weeks after some Monroe residents' homes were flooded after a short thunderstorm.
Monroe City officials are urging residents to prepare for the potential heavy rainfall.
"In anticipation of predicted heavy rainfall this week, the City of Monroe Public Works Department is asking for assistance from all citizens to ensure that all debris is cleared from yards, ditches, curb sides, drainage grates, etc," Mayor Jamie Mayo said. "Any precautions that can be taken prior to this rainfall would be most helpful in preventing possible localized flooding."
Director of Monroe Public Works, Tom Janway, told KNOE 8 News that his office will be equipped and ready if anyone needs them.
The Weather Channel has provided a list of need-to-know information regarding the storm.
What To Know:
The heaviest rain amounts are likely to be on the northern Gulf Coast, including parts of southeast Louisiana, southern Mississippi, southern Alabama and the Florida Panhandle.
This swath could see 6 to 9 inches or more of total rainfall by Thursday. Locally extreme rain amounts of 12-plus inches could occur in localized areas, according to the National Hurricane Center.
Life-threatening flash flooding and river flooding are both likely threats.
Other parts of the South, including the Florida Peninsula, will also see locally heavy rain at times this week due to the abundant moisture and stalling front. Heavy rain could occur as far west as southeast Texas through Thursday.
The rain could linger into Friday.
A high risk of rip currents is likely along parts of the Gulf Coast. High surf and some coastal flooding are also expected. Inundation of 1 to 3 feet above ground level is possible along the coast in the tropical storm warning area.
Gusty winds are likely near parts of the northern Gulf Coast this week, particularly north and east of where the low tracks.