Delta Sigma Phi helps others beat the heat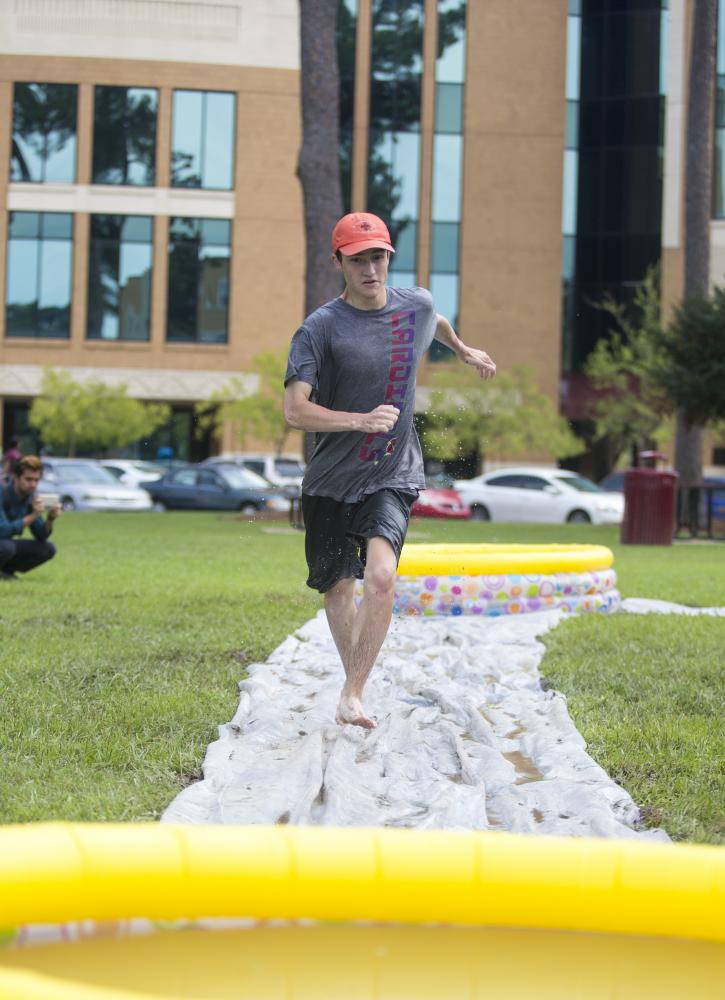 Even though the Fall semester has started, the summer heat is still persistent.
Thanks to the gentlemen from Delta Sigma Phi fraternity, students were able to beat the heat with a fun game of Slip-n-Slide.
The midday event had students running around on soapy tarp tracks and muddy grounds.
All the splashes and noise attracted a crowd of students who regretted having classes at that time. Delta Sigma Phi strives to help men become the best possible versions of themselves while contributing to the surrounding community.
"We are a tight-knit family that tries to communicate with students about how we can get involved on and off campus," said Hollis Walker, vice president of Delta Sigma Phi and a junior communications major.
The diamond-shaped tarp was continuously hosed with water and baby shampoo to minimize friction and thwart the players during their runs.
The sheer intensity of the game required participants to sign a liability waiver.
While some participants chose to carefully tip-toe across the slippery surface, others slid with style into the kiddie pool bases.
"This event was very fun and entertaining. It gave us an opportunity to play in the water, be ourselves and get to know our fellow Warhawks," said Taylor Tullier, a sophomore dental hygiene major.
"I had a lot of fun with the Delta Sig guys. They represent better men, better lives. They put on this event to let everyone have fun since the first week of college is hard for everyone," said Hailey Stapleton, a sophomore toxicology major.