Volleyball goes winless in Arkansas Classic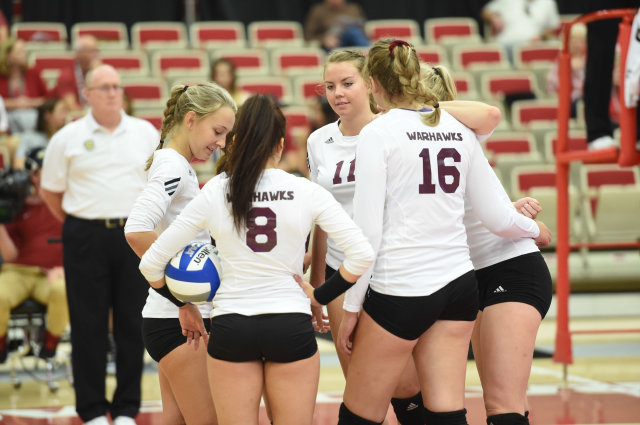 The ULM volleyball team lost its first game of the 2017 season against Utah State 0-3 (25-17,25-5,25-20) in the Arkansas Classic.
The third set was highly competitive with five lead changes and nine ties.
Utah State hit .309 (39-9-97), with .542 (14-1-24) in the second set. ULM hit just .23 for the match with 34 kills on 106 attempts and 21 errors.
The Warhawks had a great performance from fifth-year senior Kacey LeBlanc, recording 16 digs.
They also had an impressive debut showing from two freshmen. Outside hitter Lauren Appelman hit .400 (3-1-5) and middle blocker Alix Christie .500 (4-1-6). Redshirt sophomore Catherine Griffith led ULM with seven kills.
In an article from ULM Athletics, head coach Patrick Hiltz talked about the game,
"We passed the ball decently, and our back-row defense was very good. With Kacey doing what Kacey does, we need to be better at the net. Our block wasn't there at all, and we need to put the ball away as hitters. The setters both did a good job of getting our hitters in good situations, but we didn't finish the play."
"I'm pleased with both freshmen that played today," Hiltz said. "Lauren and Alix came in and played carefree volleyball and were effective for us. It was nice to see them perform well and not show any sign of nerves. I expect them to continue to grow and make big contributions to this program."
The Warhawks also had a match against the Razorbacks to complete game two of the Arkansas Classic.
The Warhawks fell to Arkansas 0-3 (25-14,25-9,25-13) in game two. The Razorbacks went on an 11-2 run to win the first set.
They closed out the match on a 9-0 run to complete the third set.
Griffith hit a team-best .429 (3-0-7). Juniors Tara Jenkins and Allie Kemp combined for 14 digs, seven each.
The Warhawks finished the Arkansas Classic against CSU Bakersfield in a losing effort. ULM played great in the first set.
They kept it close, but Bakersfield took the set 25-23.
The second set was a different story as CSU ran away with the lead, winning 25-19. ULM came up short in the last set 19-25 as CSU won the match 3-0.
The team is back at home on Wednesday, August 30, against Stephen F. Austin.
The first serve is scheduled for 6 p.m.