Cooper wants to inspire others through ASL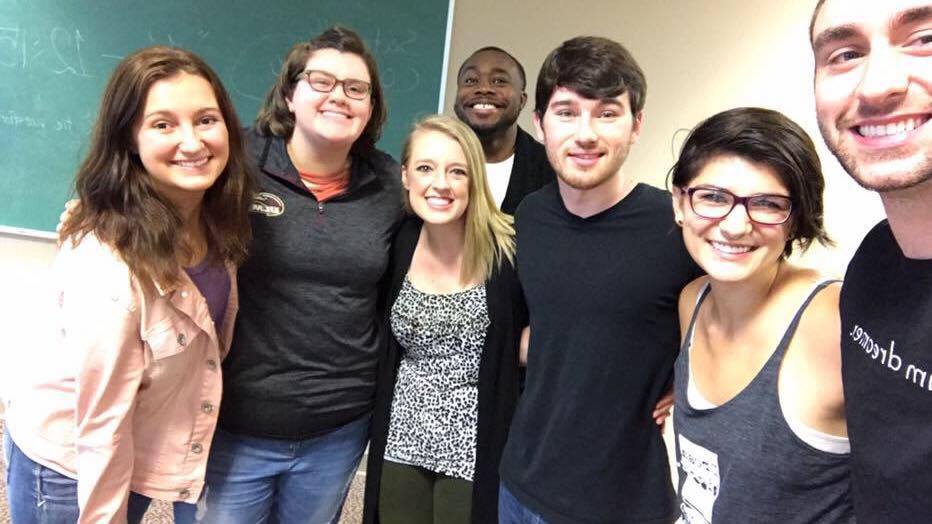 Katelyn Marie Cooper has been a hearing person all her life, but she has been blind to where life was going to take her until she got to ULM.
Cooper, a speech language pathology graduate student, teaches the first American Sign Language class at ULM. As of right now, this semester will be the last two classes she will teach on this campus.
Cooper knew that SLP was the field for her after she took a trip to Africa.
"I met a speech-language pathologist who recommended it because of my love of working with children," Cooper said. "Although speech-language pathology is so much more than just working with children, my passion is in teaching others new skills, and this field provides those opportunities."
Before coming to ULM, Cooper applied to 20 different SLP graduate programs after completing her undergraduate at the University of Little Rock-Arkansas.
After being wait-listed by some programs and rejected by others, she didn't get excepted. She applied to 18 more programs the following year.
"Before knowing I was accepted into ULM, I was given the opportunity to meet with Dr. Irwin of the speech-language pathology department. It was during this meeting that I learned more of the school and all that it offered for SLP students. I shared my passion for both speech-language pathology and my love for American Sign Language," Cooper said.
She was presented with the chance to apply to teach a beginning sign language course the following year.
She was shocked when she got the offer.
"I had been through the process of applying to so many programs and the roller coaster of thinking 'will I be accepted' and 'am I good enough' to the point that to some degree I had lost some hope of reaching my goals," Cooper said.
Cooper told The Hawkeye that she was humbled with opportunity and that she still feels the same way every single day.
For Cooper, the best part about her experience teaching at ULM has been her students. She loves getting to touch their lives in a positive way.
"I love the interactions and getting to share my love of ASL with my students. I have even had students that were unsure of their futures come up to me later and tell me that they have chosen to become ASL interpreters or something related to studying Deaf culture," Cooper said.
She said the only downside to the job would be the students who she didn't get a chance to connect with.
"If I could go back in time, I would have tried to make more of an impact," she said.
With the constant rejection, getting where she is now was not all fun and games.
"I felt discouraged. At times, I felt that I had chosen the wrong profession," Cooper said.
Cooper started her college career at Baylor University in Waco, Texas. After hitting a rough patch in her academic career, she felt alone and moved to Little Rock.
"In some ways, those obstacles even furthered the reason for my taking this job and coming to ULM," she said
Cooper thought that ULM would treat her like a family and make her feel welcomed. She said as soon as she walked in the door, she got that feeling.
ULM students have welcomed Cooper with open arms and they absolutely love her class.
Alexia Wooten, a senior communication major said, "It was an absolute blast. Ms. Cooper is extremely passionate and you learn so much! I really wish there was a second course," Wooten said.
"The class was great…She is just a joy. Just participate and try and you will do wonderfully. I made a 100," said Sarah Williams, a junior biology major.
The one thing Cooper will take away from her time teaching at ULM is how much her students have helped her learn how to be a better teacher.
"I have learned that teaching is a dynamic experience that gives and takes. I have to be willing to listen to others in order for them to learn from me," Cooper said. "I had this idea that teaching was telling, but it is a process of including the other person, forming a bond and pouring into each other over time."
Cooper's dream is to teach ASL.
"I would like to attend a University and earn my Ph.D. in education so that I may teach at the college level," she said.
The students whose lives she's touched will truly miss her.