Q&A with Ingram and Usie: Homecoming King, Queen share memorable moments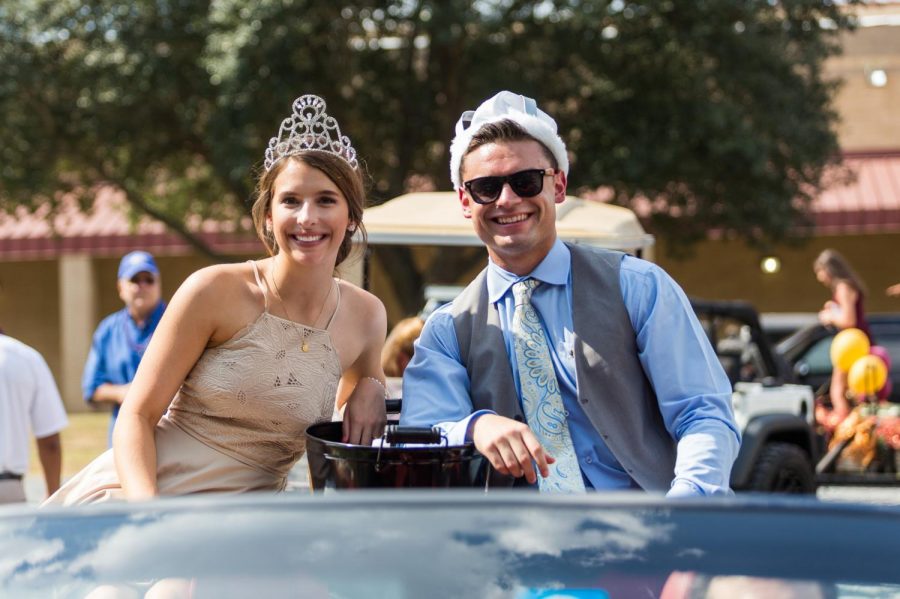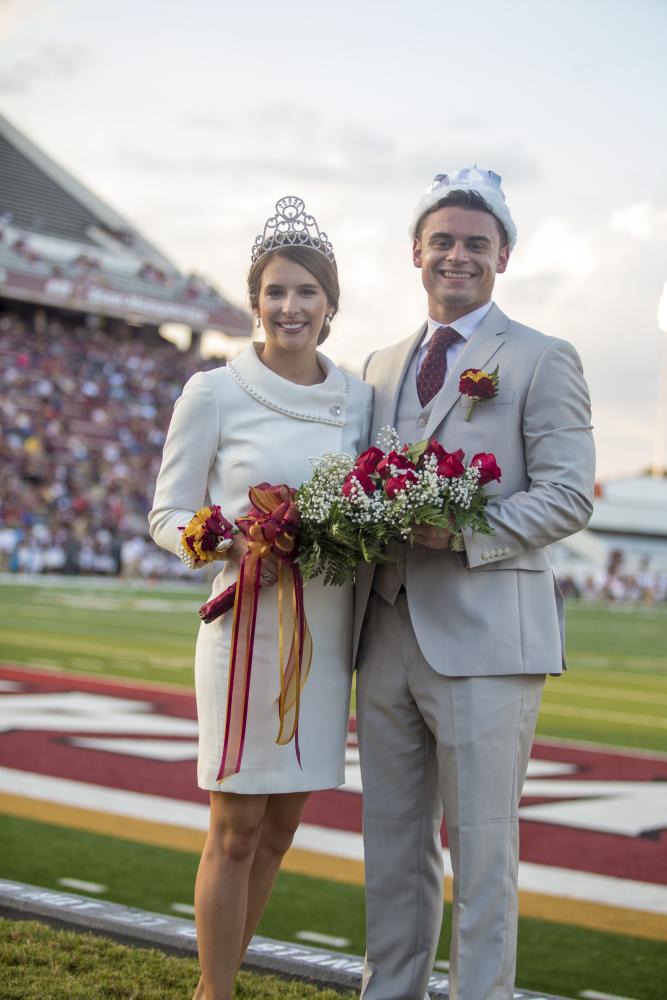 The 2017 Homecoming Court has been elected, and the students have chosen Josh Usie and Gabi Ingram as their king and queen. Usie, a senior marketing major, and Ingram, a senior biology major, sat down with The Hawkeye to talk about their time at ULM and their plans moving forward after college.
How does it feel to be elected to Homecoming Court?
Gabi Ingram- "I would definitely say it's very honoring and humbling. It's super exciting at the same time. I'm really thankful for my sorority who backed me through the entire thing, which is Kappa Delta, and I'm really grateful to ULM for all the memories."
Josh Usie- "It really is a great honor, that's what I keep telling everybody. To see everyone kinda respect you like that, kinda see you in that kinda light to vote you to represent the school as king and queen just means a lot, and to be nominated by PIKE and have them think I'm the best guy for it, to try to win, it's just been a really humbling experience to know people think about you like that around campus."
Speaking of memories, what were some of your greatest memories here at ULM?
Gabi Ingram- "I would say this was one of my greatest memories of them all, being homecoming queen. I've got to say my greatest memory would be having my little sister Ellen here at ULM with me and getting to be on homecoming court with her last year and then again this year, and, being able to share the experience with my family really has made it super special to me."
Josh Usie- "I mean it's kinda tough, I've really got to a lot of great things since being here. One of the best ones, I got to be Mardi Gras King in the spring (2017), and that was awesome having the whole court that was being represented by my brothers as well, and great friends too, of the friends I've made here. I've had some great memories with PREP, getting to meet freshmen and having experiences with all of those people, and this is going to be a great one too (becoming homecoming king). I can already tell the experience has been awesome. My mom was super excited; my family is all happy for me. It's just been fun."
Any particular classes or particular professors who have made an impact on you?
Gabi Ingram- "I have to thank Dr. Wiedemeier. She's not only one of my favorite professors, but she's also my advisor, and being a biology major, I'm always super busy, but Dr. Weid, her lectures just make school so much easier because she's such a great professor, and she supports me and my dreams."
Josh Usie- "Mine's probably between two. The first one, not this past spring but the one before, I was between majors and Dr. Henry Cole, he's really the one that kinda helped sway me to change from risk management to marketing. He just was a nice voice there, really was supportive of me and really just helped me through the whole process. I loved his class, and the other one would be Professor Tom DeNardin. That guy just, he knows so much, he's so knowledgeable. He went out there and made it big and came back here to teach us all these things about real life experiences, and that's something you really can't put enough value on."
Both of you mentioned being in fraternities and sororities. What's it been like being a part of something on campus?
Gabi Ingram- "To me, it's important to be something bigger than myself, and the main thing I love about Kappa Delta, is not only do we help out the university itself, but we help out the community, and that makes me really proud to be a part of something that makes an impact not only here on the campus, but also in Monroe. Knowing I always have sisters to support me, to laugh with me, to hang my flyers all around campus and bake cookies for me. It's unbelievable, it really is, and I'll forever be grateful for my sorority."
Josh Usie- "PIKE's given me everything and then some. You know, when you have almost a hundred guys all striving to be something great and want to win things, it really means a lot. They're with me in my low times and in my high times. They've helped me, help pick me up when things haven't been going good, but they're there to celebrate too, and like she said, seeing all those people help you campaign and have your back, and want you to win…"
Gabi Ingram- "We didn't win by ourselves, I can tell you that."
Josh Usie- "It means the world. And what they've given me, I'll only try to ever give back. It's helped me make me who I am today, and I'll always love and cherish those memories I have."
The king and queen had a final message of encouragement for ULM students.
Gabi Ingram- "You can do it. Sitting in University 1001, I would have never imagined four years later I would be Homecoming Queen. Start getting involved on campus and be nice to everybody you meet, no matter who they are."
Josh Usie- "It's all about putting a foot out there. It's scary to try things, but when you do, it will change your whole world forever."