Students get spooky for annual Halloween ball
Hang on for a minute...we're trying to find some more stories you might like.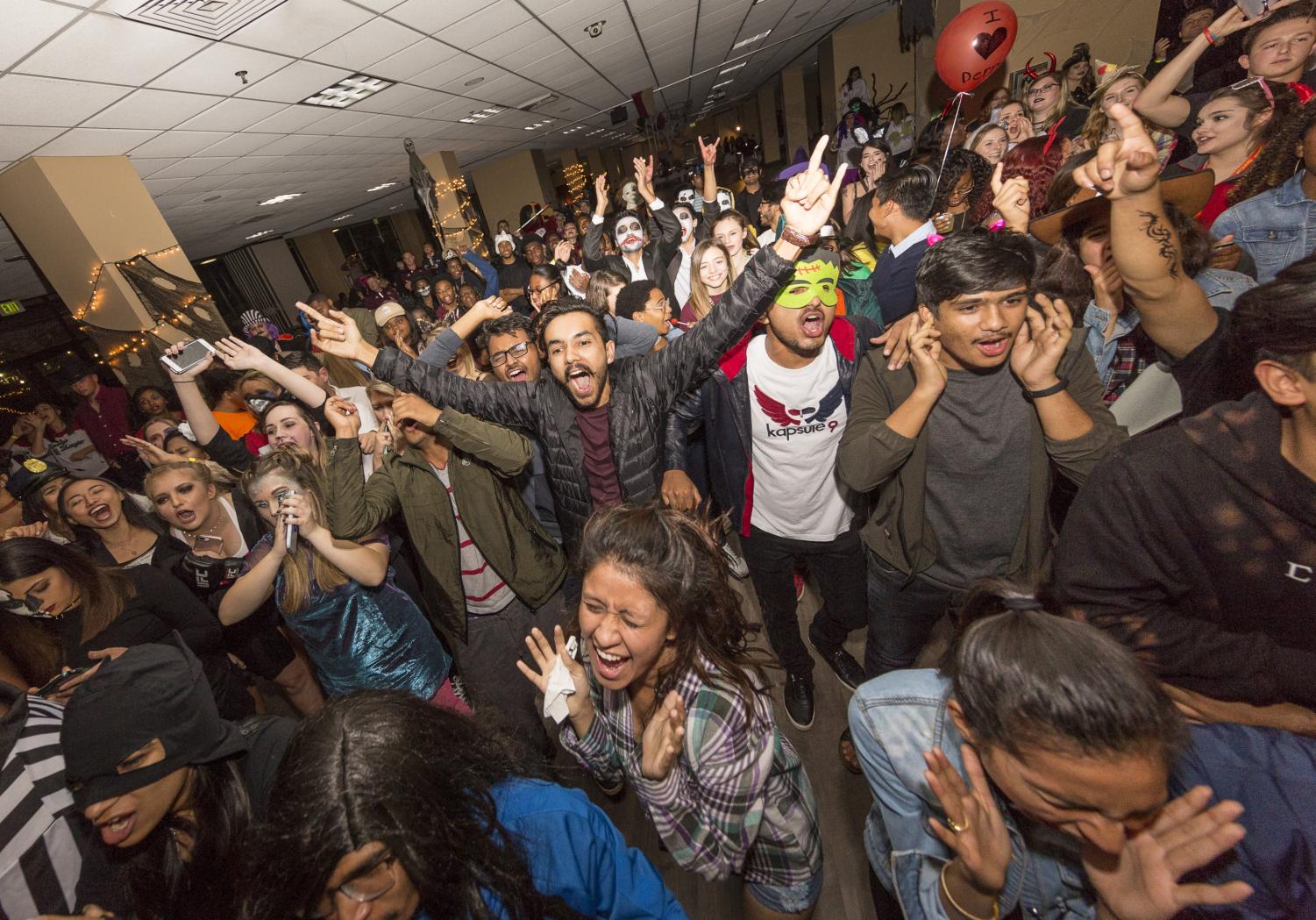 It's finally that time of the year when the "fresh out of the bed" look can actually be socially acceptable.
Halloween is a great time to showcase one's creativity, and this year's Halloween Ball proved no different.
The annual event organized by the Student Government Association saw ingenious creations such as "ceiling fan," "Starbucks frappe" and even "news flash" to name a few.
Gaurav Phuyal dressed up as "50 shades of grey" for the night.
The sophomore biology major had 50 shades of grey color swatches stuck on himself with two balloons for the number 50.
Phuyal spent six hours constructing his winning costume.
"The best part for me was when I had the loudest cheer for my dress and won the best dress among sophomores. I loved the support I got," Phuyal said. "Coming from a country where we don't celebrate Halloween much, it was more of an opportunity for me to show my creativity and enjoy."
Top three nominations for each classification were selected by SGA senators.
Winners were selected on the basis of loudest crowd cheer.
There was also a category for couple/group costumes.
The theme for this year's Halloween ball was based on popular sci-fi series "Stranger Things," whose second season premiered a day after the ball.
Some senators even dressed up as the character "Eleven" and passed out Halloween- themed candies to promote the event.
Entrance to the ballroom was through a dark tunnel decorated with hanging rags and skulls.
The glass walls featured missing profiles of different SGA senators and a photo booth where students could strike a pose with their crazy costumes on.
"I like Halloween ball because it gives students something fun and safe to do as a Halloween festivity," said Kelsey McNulty, a senior speech pathology major."If you are hesitant about going because you have no one to go with, throw on a costume, meet new people and have a good time."
The event was originally set to be held at the Brown Gym as previous years.
According to SGA senator Nirali Patel, the event was moved to the SUB ballroom at the last moment, since the former location was not compliant with the guidelines of the Americans with Disabilities Act (ADA).
"The Halloween ball is a fun event for students to take a study break to eat and dance. We wanted to make sure every student in campus was able to attend," Nirali said. "My favorite part is definitely seeing everyone's costumes. You can see the time and effort that the students put in and the end results are usually pretty amazing."
Winners of the costume competitions were awarded cash prizes.
Despite the location change, the dressed-up crowd enjoyed a night of spookiness with free food and a cash bar.