PETA honors cows, seeks to educate
For Hannah Kinder, there is nothing more staggering than the sheer volume of animals who die unnecessary deaths each year for the food that people eat.
10 cows were killed in a car accident on Interstate 20, near Rayville, LA, on Nov. 2, 2017.
PETA, the People for the Ethical Treatment of Animals, plans to put up a billboard on I-20, near the site of the wreck, in honor of the cows.
"It is something we have done before and will likely continue to do as these senseless deaths continue happening. Every animal who dies at the hands of the agriculture industry—whether they are forcibly slaughtered in a facility or die in an accident—deserves respect and recognition that their life mattered," Kinder, the college outreach coordinator of PETA, said.
Kinder told the Hawkeye that this is why PETA has to keep fighting for the animals who can't fight for themselves.
The billboard will promote veganism. It will feature a photo of a cow with the words: "I'm me, not meat. See the individual. Go vegan."
"PETA's billboard will remind everyone that no animal wants to endure a violent, painful death and that the best way to stop contributing to needless suffering and violence is to go vegan," Brooke Rossi, the assistant press coordinator for PETA, said.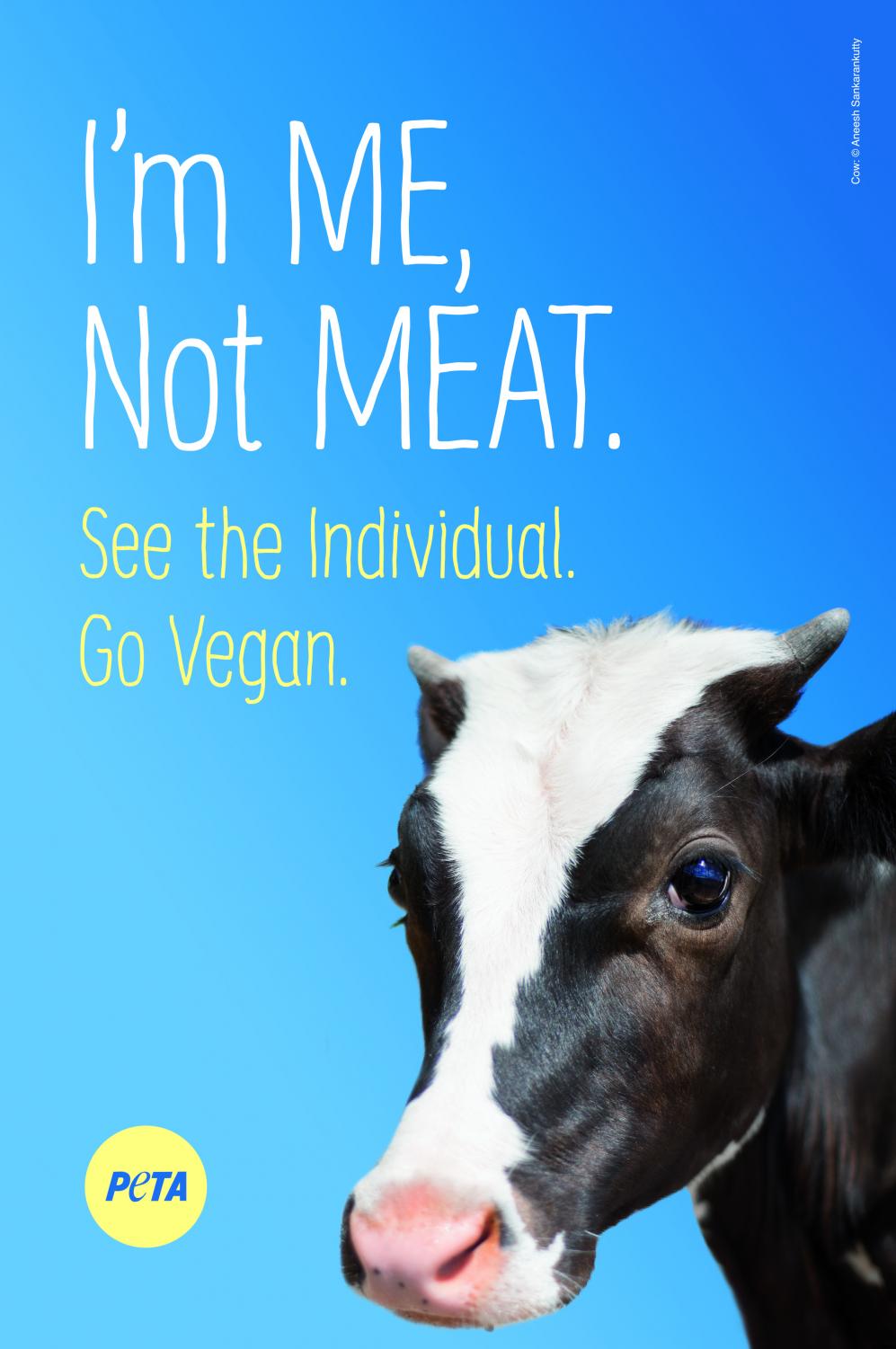 The trailer that was carrying the cows turned over on I-20 resulting in the cows' deaths. The accident happened following a hit a run that began between Start and Rayville. The man driving the trailer was not injured.
There was a total of 80 cows on the trailer, the other 70 were transported to the Delhi Sale Barn.
This is the fourth accident that has killed cows since July of this year.
Kinder and Rossi said they find out about accidents like this from concerned supporters, local citizens and through news outlets.
"Each morning we have a meeting going over the news from the night before, so it is likely this was brought up during this time," Kinder said.
PETA put up billboards honoring the cows involved in all four accidents this year.
Some ULM students believe putting up a billboard won't cause much change. Others just think there are bigger issues.
"I love cows but they could put some money into the improvement of quality of life for the cows instead of a billboard," Kaleb Hanson, a third-year pharmacy student, said.
Greg Sova, a junior atmospheric science major said, "The UDSA reports that there are 98.4 million cattle in the United States. A loss of 10 cattle, while sad, is not even a drop in a bucket. I cringe every time there's so many frivolous wastes of money when there's broke college students, homeless veterans and humanitarian crises everywhere I look."
According to Kinder, PETA has seen some positive changes over the past few years.
"The number of vegans and vegetarians is on a steady rise worldwide. We see new vegan restaurants opening in nearly every city. Slaughterhouses are closing down and the dairy industry is losing money at a rapid pace," Kinder said.
Kinder mentioned the closing of Ringling Bros. and the fact that places like SeaWorld are getting put "on blast" for the way they treat animals.
"Every single day there is a victory for animals, and we are proud to be a part of this life-saving, world-changing movement," Kinder said.
Although PETA's billboard says what it says, PETA's goal is not to make the entire world vegan. They just want to educate those who are able to go vegan about veganism.
"If you are not ready to go vegan, you can help animals in other ways—buy cruelty-free cosmetics and personal care items, don't support anywhere animals are being used for entertainment, wear your own skin and always adopt and spay or neuter," Kinder said.
One way people can stop these accidents from happening is to keep cows off their plates, according to Kinder. She said, "eating animals is unnecessary, and they can live happy, healthy lives by eating plant-based foods."
Update: The billboard went up on January 10 and is located 0.7 miles west of Exit 138 on I-20.