Alumni Get Behind Grill, Reconnect with Campus Life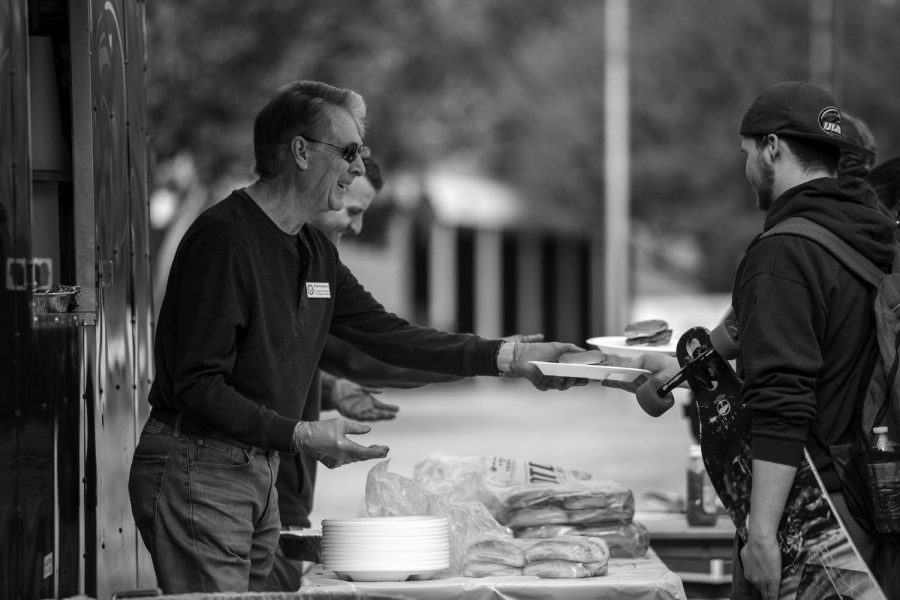 ULM alumna Terri Mulhearn spent her Friday at her old campus serving free lunch.
Mulhearn and her husband helped cook burgers and hot dogs at the lunch social organized by 31 Ambassadors and the ULM Alumni Association this past week.
Like the Mulhearns, there were many others from the alumni board working the event.
The event was organized to "show the students and faculty how much we care about them and the campus," according to Mulhearn.
"We come here for all the football games, basketball games and events like this," Mulhearn said.
Mulhearn graduated in 1987 with a degree in office management and is now the president of the greater Houston alumni chapter.
Their effort was much appreciated by students like Taylor Smith.
"A lot of campuses do not do much for their student body. It costs a lot of money and a lot of effort to cook burgers for this many people," said Smith, a senior nursing major.
"No one should take this for granted.," Smith added.
"Music, fellowship and free food, what else do you need to start a good weekend?" Bibek Khanal said.
The freshman medical laboratory science major, who is also a vegetarian, was delighted to find veggie burgers being served at the event.
Political science professor Dr. Joshua Stockley attended the event with his entire class. Stockley shared that the lunch social brought the alumni and students together.
"And who doesn't like free food," Stockley added.
Stockley looks forward to 31 Ambassador's Oozeball event this semester. "I participate every year. We always have a faculty staff challenge. That is an example of how students and faculty can enjoy together," Stockley said.
Along with Oozeball, 31 Ambassadors hosts other events like the biannual t-shirt swap planned for this semester.
"The 31 Ambassadors always participates in the Krewe of Janus Mardi Gras Parade," said Matthew Thornhill, president of the student organization.
The 31ers also hope to host another huge event this spring to replace "The Big Switch," an event that they hosted years ago.
"This event will be a way for the students to have fun, challenging and connecting with their professors," Thornhill said. Further details about the event are yet to be announced.
Attendees could also sign up for the alumni association and win customized merchandise at the event.