Pet parade continues Mardi Gras tradition, promotes local shelters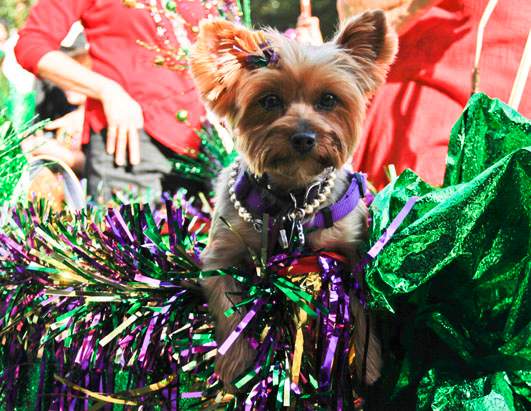 Hang on for a minute...we're trying to find some more stories you might like.
Mardi Gras brings with it all sorts of unimaginable, exotic costumes and fancy floats.
Pet Assistance Welfare Society of Northeast Louisiana's special twist to the celebration just adds to the list of bizarreness, but in an adorable way.
The non-profit organization teamed up with Twin Cities' Krewe of Janus to host the twelfth annual Krewe of PAWS Mardi Gras Pet Parade last weekend.
Unlike traditional Mardi Gras parades, the event featured more than 100 pets dressed up in Mardi Gras colors with their own mini floats.
Yuki KC attended the parade with her parents.
KC, a database analyst at the ULM scholarship department, volunteered to lead the parade by holding banners for PAWS.
"Being an animal lover, I really enjoyed the event. People dressed up their pets in 80's outfits, and I got to see so many different breeds of dogs and other pets," KC said.
Until last year, the parade featured many farm animals like pigs, raccoons, opossums and roosters.
This year's parade, however, was mostly made up of dogs.
Nonetheless, one could not miss the dolled-up longhorn steer that walked amongst other pets at the parade.
"We came with PIKE to work community service, and they assigned us to walk with the bull. I'm pretty used to it and not nervous about it all," said Reily Holloway, member of the ULM Pi Kappa Alpha fraternity.
According to KC, the event brought together people from all walks of life to share a common bond through their love for animals.
"It is also a great chance for local animal shelters and rescues to advertise about their organizations," KC shared.
One such organization was the Bayou Bully Rescue.
According to Cinnamon Grant, member of the non-profit rescue organization, the dogs were brought to the parade to increase their chances of getting adopted.
"It's a need for them to be adopted, because this isn't their final stop. Getting them out of shelter and vetted is great, but we're not home. We've got to find them a home," Grant said.
Bayou Bully Rescue houses around 55 dogs at a time.
Although all of them are labeled as pit bulls, the dogs look like anything from a Dalmatian mix to a cur mix.
This was the organization's fourth year participating in the parade.
Brandy Thomas attended the event with Poppy, her Chihuahua-Dotson mix.
"He's never competed before. It has always been just for fun," said Thomas.
This was Thomas's fourth time attending the parade.
Registration for the event was $20 for the first pet and $10 for each additional pet.
Owners could also register their pets for the best costume and best float contests for an entry fee of $5.
Apart from the parade, the family-oriented event featured tents for pet supplies and game stalls and face painting for children.
All the proceeds went towards PAWS of Northeast Louisiana.