Kappa Sigma Fraternity breaks silence on racist incident
Hang on for a minute...we're trying to find some more stories you might like.
After the release of screenshots detailing racist comments made by former pledges of the fraternity were made public on social media, the Theta Chi chapter of Kappa Sigma Fraternity at the University of Louisiana Monroe was suspended.
In their first official statement since their suspension, the fraternity wished to apologize.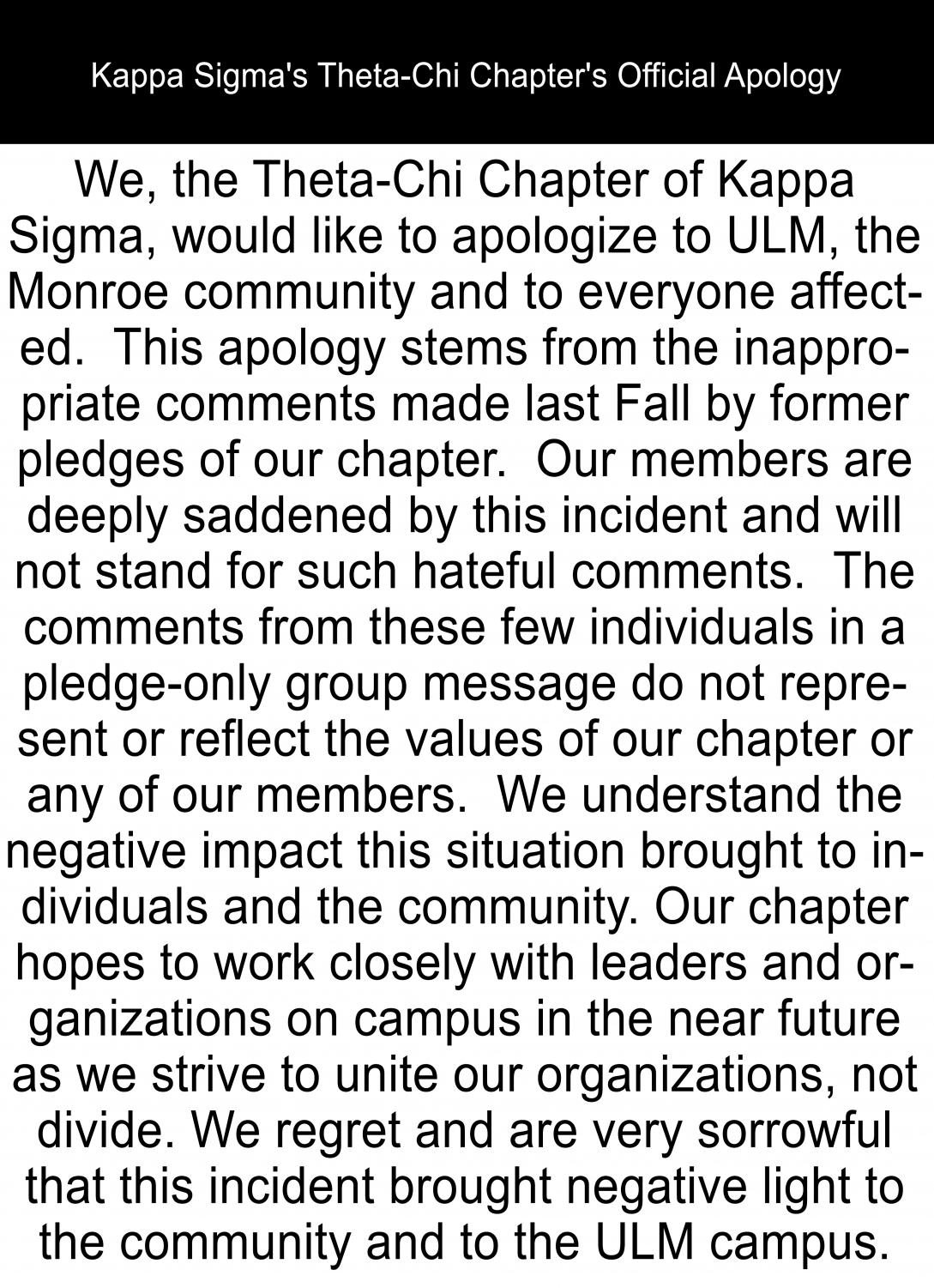 Hayden Williams, former president of the Theta Chi chapter of Kappa Sigma Fraternity recently sat down with The Hawkeye for the first official interview made by anybody in the fraternity since their suspension five months ago.
"This incident was, it was awful, it was hateful and I'm just very sorry that it happened and I want to do everything in my power to make sure that nothing like this ever happens again," Williams said.
"So hopefully, this can be a learning tool for Kappa Sig and other chapters as well to kind of educate themselves on how they think and what they should do," Williams added.
According to Williams, former pledges of the fraternity made racist comments in a pledge-only group message.
When one member saw the hateful comments being used by the others, he sent them to somebody outside the fraternity. This person shared them on social media for everybody to see.
None of the active members of the fraternity knew about the pledge-only group messages.
"We had no idea these comments were made until everyone else found out. We're sincerely sorry; we just want to reverse this and make it right anyway we can," Williams said.
When former pledge Thomas Evans asked for a research paper topic, he received "blacks vs. whites," "why segregation should be brought back" and "why black lives don't matter" as responses.
These drew frustration from many students on campus, especially the black community.
Williams claims the fraternity is not racist. He did reveal diversity was minimal in the chapter but doesn't see why that can't change in the future.
The university suspended the fraternity following an investigation after the release of the screenshots.
The Theta Chi chapter was also suspended from the Kappa Sigma Fraternity nationally before their charter was also eventually pulled.
"It really opened my eyes to racism in today's world. We're in 2018. We would like to think racism is nonexistent.
I guess it's an eye-opener," Williams added.
Doubtful of the fraternity's future at the university, Williams stated the former members wish to not leave empty handed.
Instead, Williams and his former fraternity brothers have come forward with an apology letter.
The Theta Chi chapter of Kappa Sigma Fraternity remains suspended from campus.