Charity Zumbathon brings supporters from out of state, raises funds
Hang on for a minute...we're trying to find some more stories you might like.
Minnie Mouse ears and brightly colored work-out gears were on display as people danced to raise awareness. Last Saturday, the Autism Center at ULM (AC-ULM) paired with Zumba instructors to host its annual Zumbathon fundraiser.
The event, held at the activity center, was created to raise awareness and funds for Autism Spectrum Disorder (ASD). ASD is a neurodevelopmental disorder that affects the way a person communicates and interacts socially.
"This year, we had a Disney-themed Zumbathon," said Stacy Gipson, a licensed Zumba instructor. Gipson, who was also the host of the event, said that she came up with the idea after meeting a child with a severe case of ASD.
"I saw how difficult it can be, for both the child and parents, and wanted to create a positive place for people to come together," Gipson said.
Dr. Irwin, director of the speech-language pathology program and Autism Center, said that 100 percent of the funds raised will go towards the AC-ULM.
"With this year's proceeds, we will be able to implement a parent support group at the center," Dr. Irwin said.
The creation of the AC-ULM was a joint effort by the speech language pathology and occupational therapy programs on campus.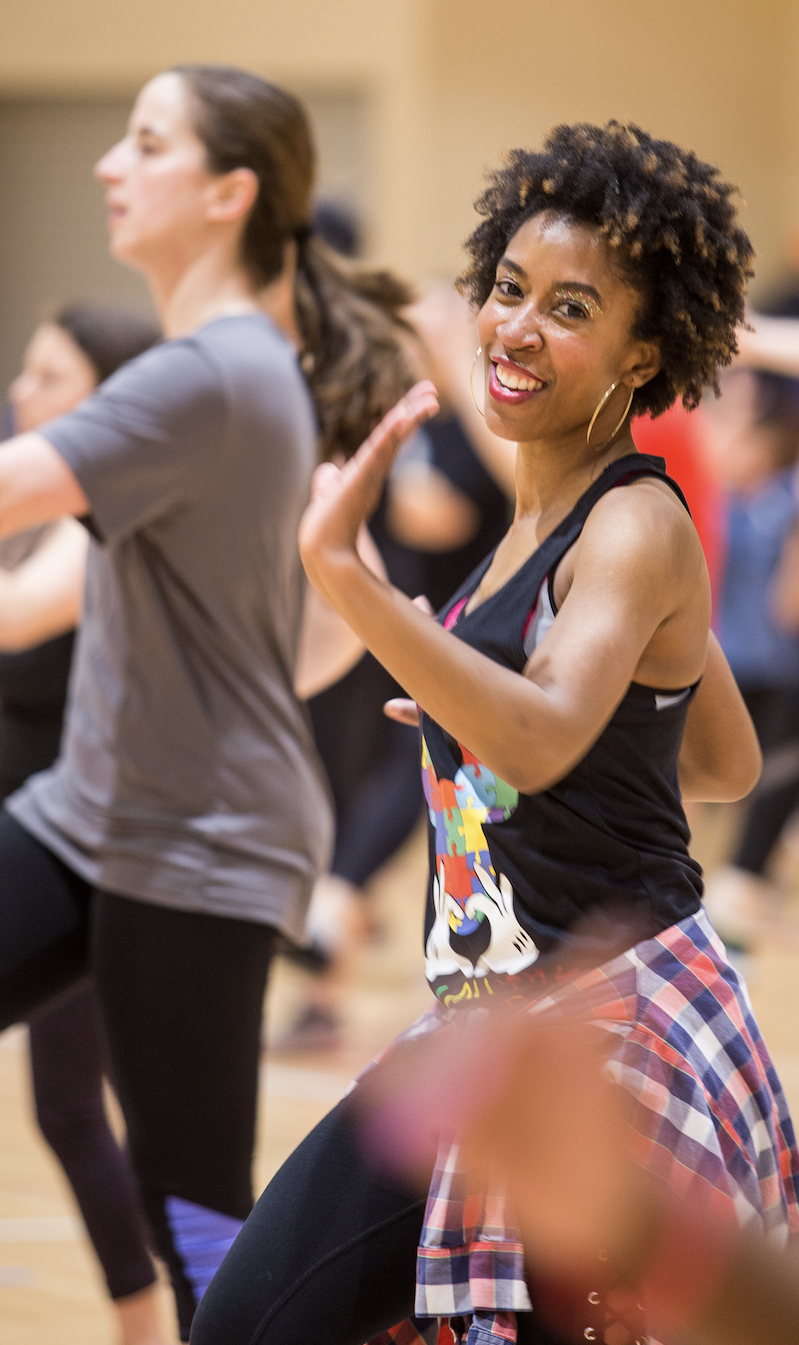 Instructors traveled from Texas, Mississippi, Arkansas and across Northeast Louisiana to help participants let loose on the dance floor.
Vendors sold their works at the event and, in lieu of a vendor's fee, 10 percent of the profits went directly to Autism research.
Valerie Drumgole, of 4everPrintz, created custom-made Autism awareness t-shirts that were featured at the event.
The universal symbol for Autism awareness is the puzzle piece, which according to autism-society.org, "reflects the complexity of the autism spectrum."
Terry Jeanette, of TappingflamingoBling, was a first-time vendor at the event. She has two nephews with ASD and said she was excited to help raise awareness.
The AC-ULM is funded primarily through donations and grants. Just this year, the center was awarded a grant of $32,000 by the Living Well Foundation.
This is the third time the foundation has given money in support of the AC-ULM.
The AC-ULM's mission is "to serve as a comprehensive resource that shall enhance the quality of life for individuals with Autism Spectrum Disorders (ASD) and their families."
Keith McFarland, chef and owner of GiGi's Kountry Kitchen and Katering, was a Zumba instructor but now cooks southern classics like stuffed catfish and baked lasagna. He had his booth set up at the event, along with Delta Roux & Que, a family-run food truck specializing in cooked meats. Mexican street corn and stuffed jambalaya burritos were on sale at the entrance of the building.
April is Autism Awareness Month. Donations for the event were $10 for adults and $5 for ULM students or military with ID. Children got in for free.