Miss ULM hosts a gentleman's pageant
Hang on for a minute...we're trying to find some more stories you might like.
What's the first thing you'd do as Mr. ULM? "Back flip." And the second? "Land it." That's just what senior kinesiology major Derek Healy did. He back flipped and landed in the ULM history books as the inaugural Mr. ULM.
The pageant was created as a fundraiser by the Miss ULM committee and titleholder, Hagen Campbell, in order for her to compete in Miss Louisiana in June. All proceeds, which totaled $277, will be donated to Children's Miracle Network Hospitals, the official platform partner of the Miss America organization.
The competition was comprised of four categories: Warhawk Pride, Talent, Evening Wear and On-stage question.
For the Warhawk Pride category, the contestants bared their maroon and gold hearts and showed off their confidence and creativity through cheerleading performances, raps and small skits. Contestant 4, Jihad Allen, and contestant 8, Sandarva Bhutta rewrote popuar rap songs to reflect the sprit and culture of ULM.
Junior math major Sarthak Neupane had a very unique performance, however.
"I got to learn and perform Haka on stage with my brothers," Neupane said.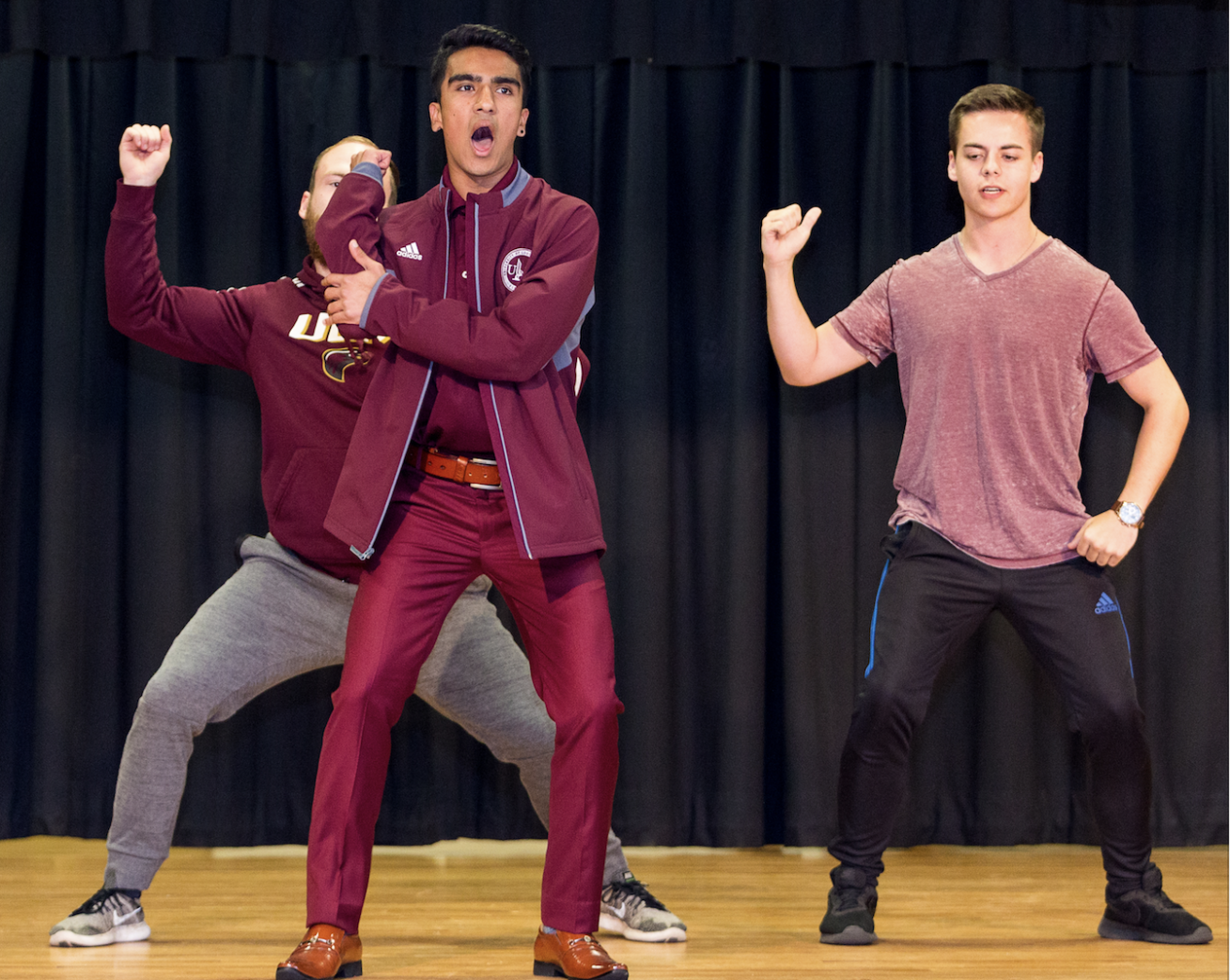 The fifth contestant of the pageant learned a Maori traditional war cry from his friend Shani White and performed it with help from the audience and some of his Delta Sigma Phi fraternity brothers.
This approach to the "Warhawk Pride" category showed that ULM's campus is very diverse when it comes to culture and helped Neupane securea $50 cash award as third runner-up.
"It's truly amazing that we could meet someone from New Zealand and learn their culture while in North Louisiana. It's truly wonderful."
In the talent category, contestants sang, danced, acted, and even performed magic tricks magic tricks. Contestant 1, nursing student Blake Oden, sang his way into the judges' hearts to become first runner-up, winning a cash prize of $150. The former prep staffer performed "Evermore," a song live-action film, "Beauty and the Beast." Contestant 8, Sandarva Bhutta, sang "I Can Go The Distance," a song from the movie "Hercules" that expressed how he felt about the competition.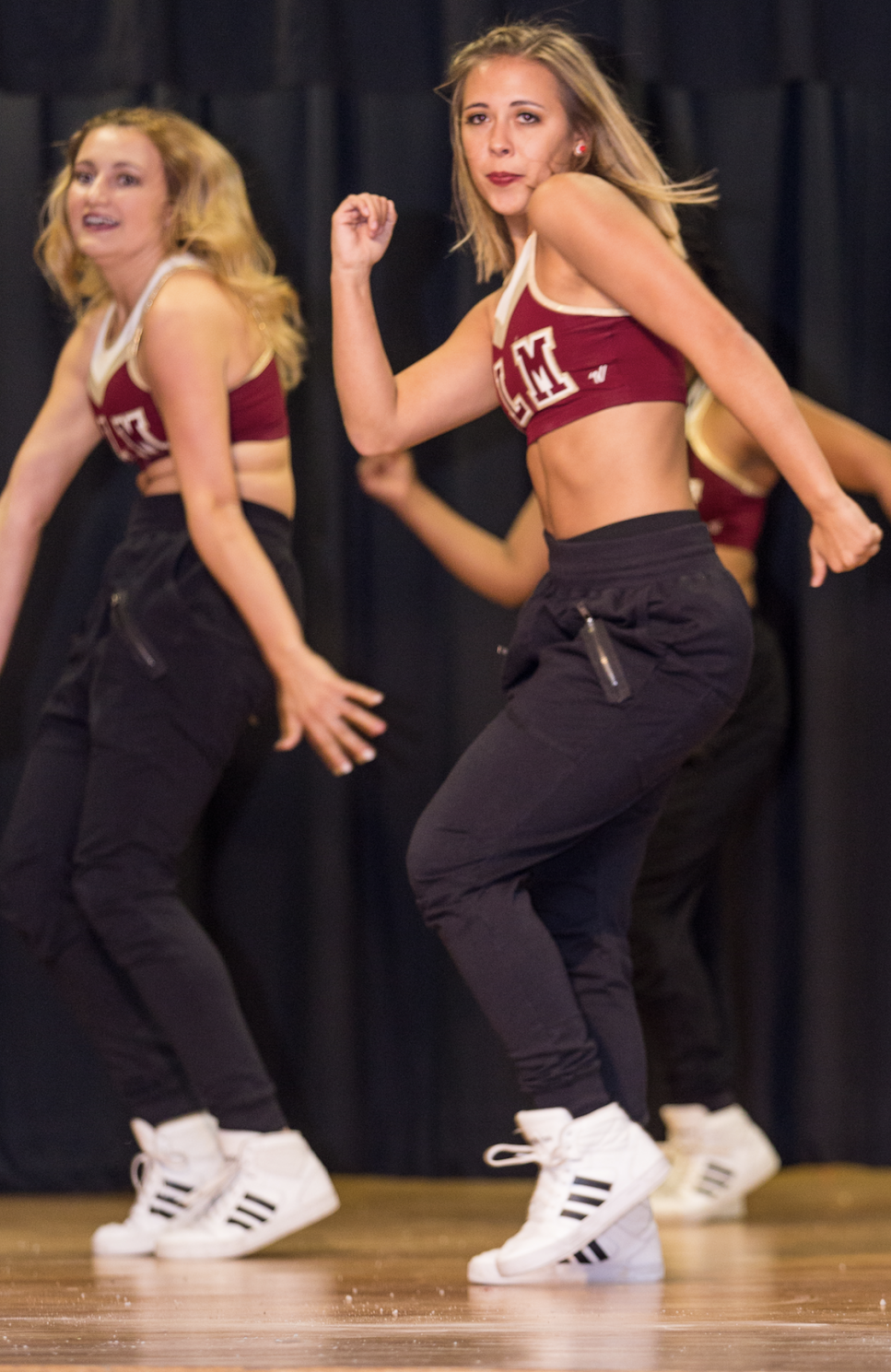 Spurred by his catholic faith, contestant 9, Johnpaul Anamege, speed painted Jesus' face to "Your Grace Is Enough," by Matt Maher. The image definitely left an impression in the judges' minds as he was crowned second runner up and awarded a cash prize of $100.
Finally, the contestants flexed their Warhawk tail feathers in the evening wear category and answered on-stage questions that mostly related to university life. In addition to the competition, entertainment was provided in the form of two ULM Hawkline performances to "Woman Up" and "Power."
After a long deliberation that allowed Miss ULM 2018 to banter with the audience and contestants, the pageant ended with some winners and some losers. Ultimately, Healy won the title of "Mr. ULM," the People's Choice Award and a total of $550 in cash. "I look forward to seeing the evolution of the competition…I'd love to see more and a way bigger variety of talents," Healy said, when asked about what he looks forward to seeing as Mr. ULM.
Although everyone didn't win, contestants Jamarcum Bradford, Clarence Nash and Hollis Walker, along with aforementioned contestants, will be remembered for the great effort they put forth in the competition.
Campbell will compete for the title of Miss Louisiana June 22-24 with 32 other women across the state. The Miss Louisiana Scholarship Organization is a scholarship program that grants women opportunities to showcase their talents, develop leadership skills and receive scholarship money for it. This year, the Miss Louisiana Scholarship Organization and local pageants across the state made available over $634,000 in cash and tuition scholarships. ULM will have several students, undergrad and alumni, competing this year.
The Student life and Leadership office hopes to continue the Mr. ULM pageant in the future and expand it into a subset of the Miss ULM pageant.
They want all students to know that this pageant is a serious pageant, and it is not to be confused with Campus Activities Board's Homecoming Week "Miss-Ter" Pageant.