Summer PREP sessions bring future Warhawks to ULM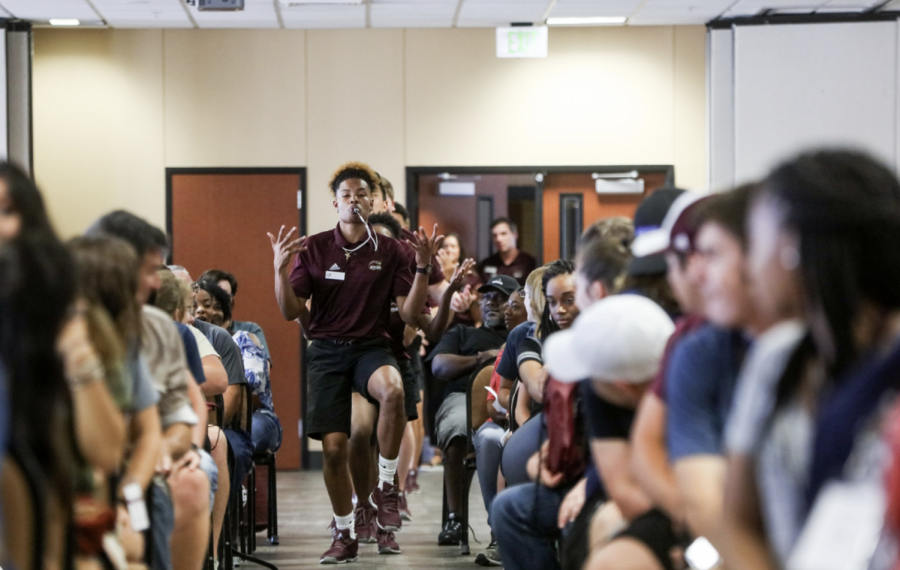 Future Warhawks have landed at ULM for the university's summer Preview, Registration & Enrollment Program (PREP) sessions. PREP is an orientation program that helps incoming students manage and better understand what college is all about. The first session took place June 6-7, with four more sessions to follow later in the summer.
Incoming Warhawk, Bryce Lovelady said that he really enjoyed PREP. "It was so much fun getting to support ULM in this process," he said.
Lovelady will be studying Business Administration while at ULM and after seeing the PREP leaders help new students, wants to become one as well.
Incoming students attended an Activities Marketplace at the Activity Center on campus. Different groups, clubs and organizations set up booths and passed out information to interested students.
Lovelady said he was interested in several of the organizations and clubs on campus and was happy there were so many different options for students.
Jazzmine Willyums, a senior art major, worked a booth at PREP for the Art Department's fraternity, Kappa Pi of the Delta Alpha Chapter. Willyums said that she enjoyed informing incoming freshmen about all of the amazing things the Art Department does for its students and community, even with little recognition.
"There's recognition for performance arts and music, but it's minimal for visual arts. I like to encourage people, whether they are artistic or not, to join us, have fun and educate themselves in fine arts. There is a lot to learn, just like any other major in college. We're serious about what we do in our art community, inside and outside of campus," said Willyums.
The booth showcased an array of pictures, from campus projects to community events, all to promote a positive and inclusive art community in Monroe.
Up 'til Dawn public relations director, Meagan Mccaa was at PREP representing her organization, as well. Up 'til Dawn is a student led organization that works to raise money and awareness for St. Jude Children's research hospital. Mccaa said that she was so happy to meet the new Warhawks at PREP.
Mccaa is a senior kinesiology major and said she was thankful she joined an organization during her time at college. "If I were to give advice to incoming freshmen, I would tell them to get involved. There are so many organizations on campus that you can definitely find where you fit in at and even meet new people who share common interests," said Mccaa.
Not only does ULM offer PREP to help students understand the intricacies of college, but also offers the Parent Orientation Program (POP). Parents meet with faculty, staff and other leaders of the university to have their burning questions answered.
After answering as many questions as possible, the PREP staff hosted a variety show in Brown Auditorium for students and parents. Skits were performed and jokes were attempted, some being funnier than others.
One of Lovelady's favorite parts of PREP was the variety show put on by the staff. "The PREP leaders did an amazing job on the variety show, which was really funny," he said. Students and parents took this time to unwind from what was sure to be a stressful first day.
Now, day two of PREP is a lot faster. Students focused on registering for classes and making sure they understood what was expected of them once the fall semester begins. Lovelady said that the PREP program focused heavily on the process of school bills and how to manage them properly. Focused efforts like money management can help incoming students who, oftentimes aren't very familiar with the processes.
According to ULM's website, http://www.ulm.edu/prep/, "The orientation program is designed to help new students make a smooth transition to college life at ULM."
The next PREP session will take place June 20-21.