Job fair brings employment to students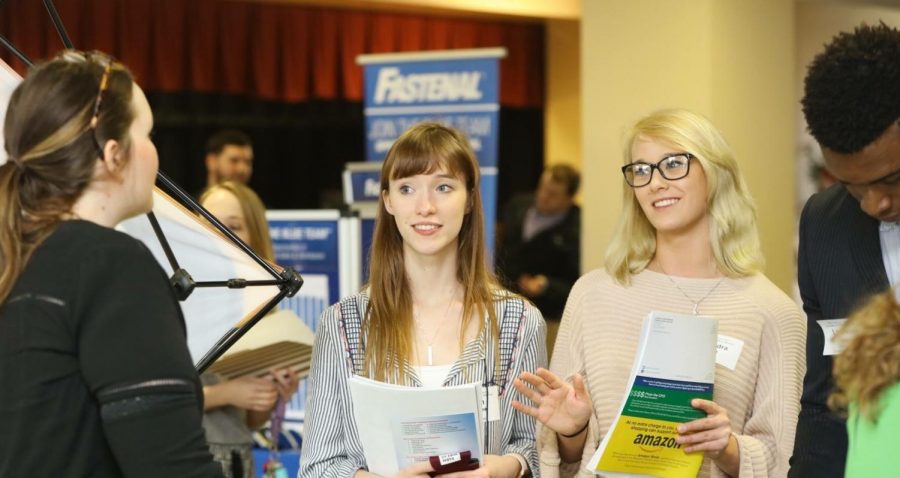 On the Wednesday of Week of Welcome, ULM financial aid office of employment welcomes, back their Warhawks by organizing the usual fall campus job fair at SUB ballrooms.
While the whole campus tries to settle in after the summer break, students are looking for jobs to get through the semester.
The job fair usually facilitates one-on-one interactions for students with hiring employers and helps the employers find the right fit for them.
There were about 15 hiring employers at the fall campus job fair including on campus employers like the write place, ULM career connections, KEDM radio and off-campus employers like Old Navy and Domino's.
"The students that do not have a job, get an opportunity to meet on-campus employers and also off-campus employers at this program", said Jalanina Tatum, student employment coordinator at the ULM office of financial aid.
Tatum believes that this event especially helps students who do not own a car since they can find a job nearby.
Sujata Gautam, a sophomore pre-nursing major attended the event looking for an 03 job opportunity being an international student.
"I noticed that this year, there were very less 03 employers at the fall job fair," Gautam said.
Gautam says that usually due to lack of funding, the job fair has little options for the international students.
"However, it always helps build up my confidence once I communicate with some of the employers and provide them with my CV," Gautam added.
Jasmine Bernoudy, a sophomore prepharmacy major was attending the job fair for the first time.
"I believe this event has put me in the right path to look for a job. I did not even know there were this much openings on campus." Bernoudy added.
On-campus employers say that the job fair always helps them by providing a pool of students to choose from who usually do not know about the job.
"The financial aid office has always done a great job on finding us hardworking student workers and getting through the paperwork very fast,"
Gautam did not find a job that interested her in the event but will return if there is an event for spring jobs.
"This year the entire event was not a small scale. We will try to look for more jobs for the spring semester and try to organize a job fair for the spring too." Tatum added.
ULM host a career fair for students in the Spring semester.