Scott McDonald named AD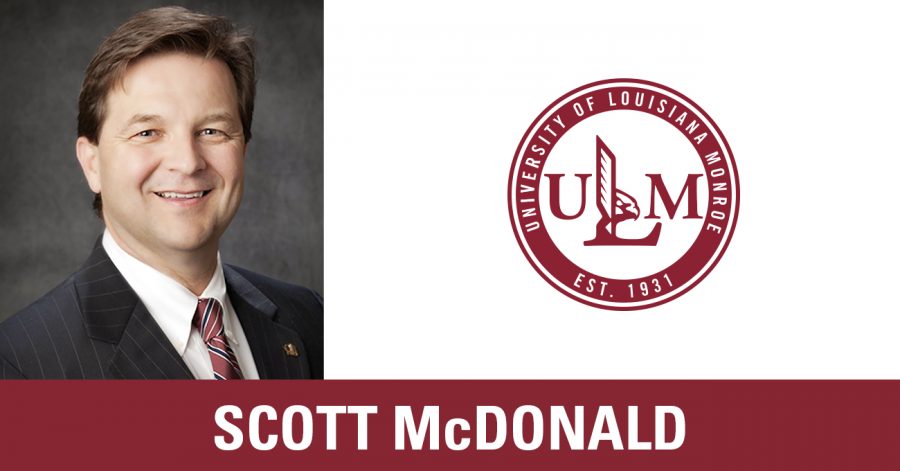 On Tuesday, President Nick Bruno announced that the new interim athletic director would be now-former ULM Chief Administrative Officer Scott McDonald.
This move is not surprising since the university previously reported that McDonald would become the athletic director when previous athletic director Nick Floyd's resignation became official on Sept. 4.
Dr. Bruno cited McDonald's vast experience as a ULM alumnus.
"A dedicated ULM alum, he brings a wealth of experience to the position as well as great knowledge and appreciation for the synergy between our campus and the local communities," said Bruno is a press release from the university. Dr. Bruno also referenced McDonald's experience as a former student-athlete at ULM. From 1980 to 1983, McDonald was an outfielder on the then Northeast Louisiana University Indians baseball team.
"Scott also brings a unique perspective to this position because he once walked in the shoes of our current student-athletes," Bruno said.
McDonald was the acting Chief Administrative Officer before Floyd decided to step down. McDonald, in the press release, stated that "In my brief tenure as Chief Administrative Officer (since July 16), I have been impressed with the dedication and passion of the Athletics Department staff."
The athletics department in the past few years has begun to make strides on improving. Floyd and the athletic director before him, Brian Wickstrom, have made immense strides in updating the athletic facilities. McDonald seems excited about these improvements, "This is a tremendous time to be involved with Warhawk Athletics, and there's no question in my mind that excitement is building on our campus as well as within our community," said McDonald per the press release.
Dr. Bruno made the decision so quickly because of how quickly the fall athletic season has come around, "With the fall sports schedule in full swing, I felt it was important to identify someone to provide leadership and stability for our student-athletes, coaches and athletics administration, and Scott McDonald is the perfect fit for that role," Bruno said.
McDonald comes with a wide knowledge of ULM but little true experience as an athletic director. He worked as the Chief Administratie Officer for a little over two months. This job is his only example of AD experience though he has a deep well of experience of alumnus related athletic experience. As of the ULM press release from when he was hired, McDonald has been chairman of the ULM Facilities Corporation. He serves on the boards of trustees for the ULM Athletic Foundation and ULM Foundation. During football season he's a color analyst with the ULM radio broadcast team.
McDonald is past president of the L Club and recipient of the Slim Scoggin Award from the Athletic Foundation. Beyond that though, McDonald has mainly worked in banking, not sports. The thought could be that McDonald will know ways to bring the school more money. There should be optimism about continual facility updating since he was the chairman of the Facilities Corporation.
The interim athletic director Scott McDonald is a young, ULM driven athletic director which is something the university has lacked. The fear is if he does not have much experience at the position but only time will tell if Nick Bruno's gamble pays off. If it doesn't McDonald is only an interim after all.