The Nun: Where is she?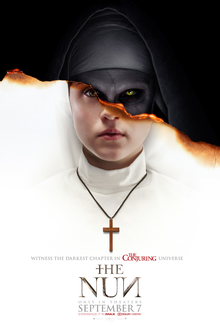 Finally, the long-awaited spin-off movie to "The Conjuring" series arrived in theaters.
The supernatural horror film, directed by Corin Hardy revolves around the "Demon Nun" seen in "The Conjuring 2."
The film is set in 1952, in Romania. The main characters are Father Burke, who specializes in supernatural occurrences for the Vatican, Irene, a soon to be nun, and "Frenchie" a man from the local village.
The movie received much hype leading up to its premiere. It was expected to lead the box office on its opening weekend. Critics gave the movie bad reviews but even that couldn't keep people from watching it. It ended its opening weekend top of the box office.
Being a part of "The Conjuring" series of movies a lot was expected of this film, but unfortunately, it fell flat.
The main problem with "The Nun" is its lack of its titular character the demon nun.
From early on, you see glimpses of her, but you really aren't introduced to her until the very end of the movie.
She finally makes her real appearance in the final quarter of the movie, but by that point, it's too late. The scares have come and gone, and she isn't the intimidating, scary presence you come to expect after watching the trailers.
The plot of the story and its connection to the series also seem a bit rushed. The lack of character depth was also an issue. Only two of the three main characters had their back stories explored.
The ending is typical but with a little twist to connect the film to the first movie in the series. This connection seemed forced and lazy.
Moviegoers looking for a quick scare should still go see the movie. At the end of the day, people go to the theater looking for a scream when they want to watch a horror film.
Because of its boring plot and simple characters, the film fails where its predecessors thrive: telling a story and having characters that connect with the audience.
There should never be enough jump scares throughout a movie but this movie made them feel overdone. It simply relied on them too much.
This movie should best be enjoyed as a rental or streamed through an app like Netflix, it's not a must see. Two and a half stars is all this movie deserves. The Nun seems to be the dud of the series.