Toxic masculinity: Don't you know that you're toxic?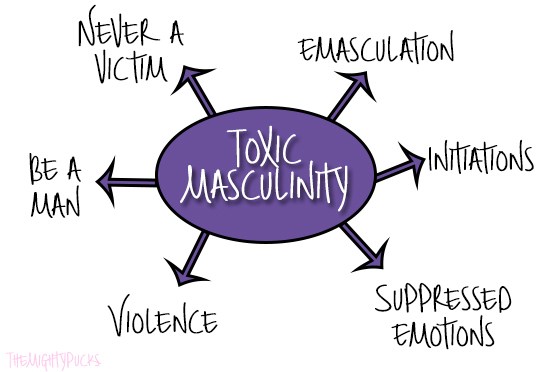 "Boys don't cry, man up."
Majority of our conversation on gender oppression has been centered around the female experience. Women are still fighting for their equal rights; however, we are missing a very important factor in our fight–men. Contrary to popular belief, men are facing the same issues as women, in regards to gender oppression.
Although they contribute to the problem's women face on a day to day basis, they are fighting a fight on their own and at the same time are being told to "man up," and to never show their emotions. We don't' realize it, but we are contributing to an even bigger issue that, in retrospect, is causing the divide between male and female treatment. In the words of my favorite pop queen Britney Spears, "Don't you know that you're toxic?" Unfortunately, men do not know because we are unknowingly teaching men how to not feel causing them to have to deal with an oppression all on their own.
I know, the idea is hard to comprehend. How can men be oppressed when its men who are oppressive? The answer is that it is men who are oppressing themselves. From the time they are babies, parents engrain in their boys that crying is for girls, emotions are for girls, and that sharing your feelings is a female action. People don't realize it, but we are telling men to reject everything that seems remotely feminine and, it's causing them to actually reject women.
Hypermasculinity is the belief that in order to be a man you must in no way resemble a woman. This means that feminine traits such as tenderness, compassion and empathy are strictly off limits. Imagine being told every day that you can't talk about your feelings because people will see you as a girl. It's problematic and it's causing an entire generation of males to suffer on their own inwardly or act out in aggression. As of today, suicides among young males are four times more common than among young females. And in regards to aggression, statistics indicate that males are more likely than females to commit violent crimes such as murder. I have always believed in crying. It's a relief. But as a woman, I am told actually, highly encouraged to cry all of the time simply because I'm a female—it's "normal." But we're not telling our men that and we're making them into misogynistic, highly-aggressive individuals.
As a society, we need to step up and change the way that we are raising our men. We need to teach them that being sensitive is okay and sharing your feelings is alright. We need to tell them to stop saying problematic phrases such as "stop playing like a girl." We need to hug them and let them know that we are here to listen to all of their problems that society tells them to take on and never talk about. Lastly, we need to let them know that crying is absolutely ok.
If we can do these things, we may crack the code of the gender inequality issues that plague today's society.