Warhawks find success at F&M Intercollegiate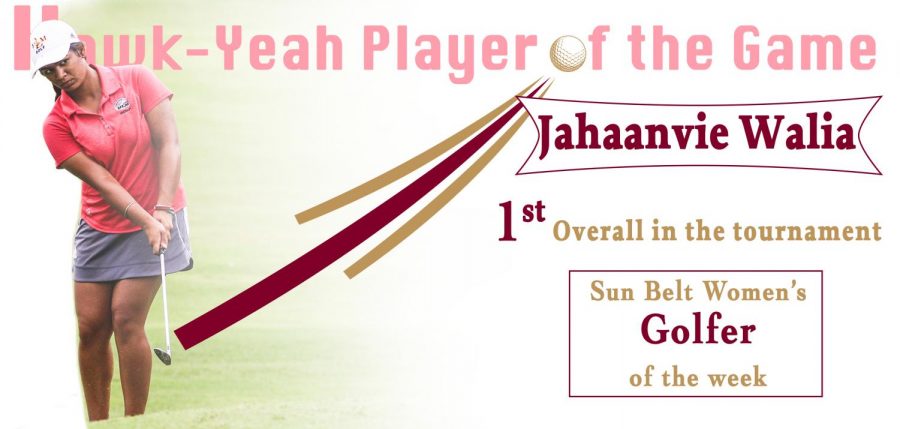 The University of Louisiana at Monroe's women's golf team performed at the F&M Bank Austin Peay State Intercollegiate in Clarksville, Tennessee over the week.
The Warhawks would match their finish from the 2017-2018 tournament coming in second. But, this year's Warhawks shot even better than last year's second-place squad.
Last year's team shot a 932 during the tournament, this year's team far exceeded that shooting a 905 and a 41-over-par.
The Warhawks were led by sophomore Jahaanvie Walia who would go on to shoot a one-over-par during the three rounds. Walia also became ULM's first individual winner since Alison Knowles who won four titles in 2013-2014.
Walia led throughout the tournament. After the first day, she was the only golfer in the tournament who shot under par. ULM director of golf Tim Baldwin was excited for Walia.
"Kudos to Jahaanvie! She played very well today. This will do a lot for her confidence going into tomorrow with a lead," said Baldwin in a press release.
Baldwin was right as Walia's confidence helped her hold off an attempt from Murray State's Linette Holmslykke. Holmslykke would finish one stroke behind Walia.
Walia was a microcosm of the team in this tournament. Walia in her ULM debut shot 19-over-par and tied for 79th while the team finished 15th. Just like Walia, the team turned it around this tournament.
Walia was not the only Warhawk to finish in the top ten, as junior Shani White improved upon her top 25 finish by shooting her way into the top ten, tying for tenth with a 12-over-par.
After having only one golfer place in the top 25 during their opening tournament, the Warhawks had 80% of its participants finish in the top 25 this time around. Seniors Olivia Landberg and Scarlett Eaton joined Walia and White, finishing tied for 14th and 16th respectively.
Only one Warhawk would struggle as junior Angela Tocco struggled to find consistency finishing tied for 41st, shooting a 29-over-par.
The Warhawks as a whole would finish comfortably in second place.They out stroked third place and host Austin Peay State by 13 strokes. Eventual winner, Murray State would use a dominate final round to outpace the Warhawks who had a four-stroke lead going into the final round. The Racers would finish 12 strokes above ULM, outshooting the Warhawks by 16 in the last round.
After the conclusion of the tournament, the Sun Belt Conference announced that Walia was selected as the Sun Belt Golfer of the Week. This comes after Walia won the APSU Intercollegiate, marking her first win for the Warhawks but third in her career as she had two at Alcorn State.
The Warhawks and Walia will look to continue their success when they return home to host their one home tournament of the year on Oct. 15 and 16 at the Fred Marx Invitational at the Bayou Desiard Country Club, where the Warhawks finished in second last year.