Mens Golf finishes in top 10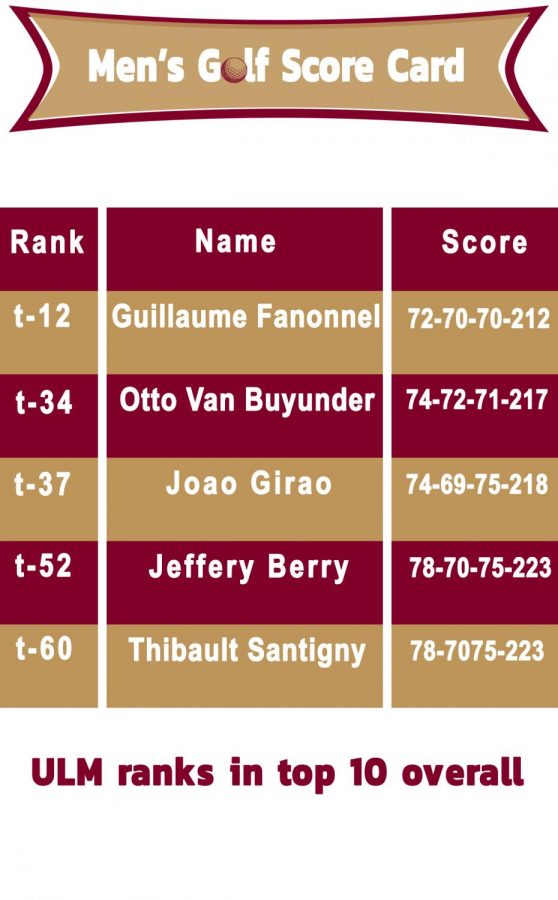 The ULM men's golf team traveled to Vero Beach Florida to participate in the Quail Valley Intercollegiate hosted by McNeese State.
The Warhawks had an average performance by its recent standards, finishing in ninth place of 16.
As a team, they shot three-over-par finishing just five strokes out of the top five. The eventual winner, North Florida shot a staggering 30-under-par, finishing just one stroke in front of South Florida.
The team's performance would be their third-best finish of the year behind their opening tournament finish of fifth at the University of Texas at San Antonio's Lone Star Invitational and after their sixth-place finish at LSU's David Toms Intercollegiate.
The Warhawks were led by junior golfer, Guillaume Fanonnel who notched his first top 20 finish of the season.
Fanonnel finished tied for 12th. He ended the 54-hole event at 4-under-par 212 following rounds of 72, 70 and 70.
Fanonnel had a very strong overall tournament ranking third in pars throughout the tournament with 39.
Freshman Otto Van Buynder followed Fanonnel's strong play. The South African native finished the tournament tied for 34th shooting a one-over-par over the 54 holes.
Van Buynder would also lead the way for the Warhawks in birdies with five in the last round of play.
Junior Joao Giaro would continue the Warhawk's strong play finishing one stroke back of Van Buynder. Gairo would equal Fanonnel on the afternoon with the experienced golfers both shooting an eagle during the last round of play.
Redshirt junior Jeff Berry and junior Thibault Santigny would finish out the Warhawks who participated at Quail Valley.
Both Berry and Santigny play was uneven during the 54 holes, with both golfers having a rough first round before rebounding in the second round.
Over the first round, Berry shot five-over-par and Santigny shot six-over-par. They then both shot a 70 in round two. Their inconsistent play reared its head again in the third round, though, as both added strokes to their final tally, shooting a 75 and a 77 respectively.
The individual winner, senior from North Florida, Travis Trace shot a staggering 13-under-par over the tournament. This was Trace's second individual win. The North Florida team as a whole had a successful event with three top 25 finishers.
The Warhawks will look to succeed in Little Rock at the First Tee Invitational hosted by the University of Arkansas at Little Rock on Oct 25 and 26.
The Warhawks will look to have their best outing of the fall as the First Tee Invitational is their last fall semester tournament, not picking up again until February at Auburn.