Congress candidate comes to campus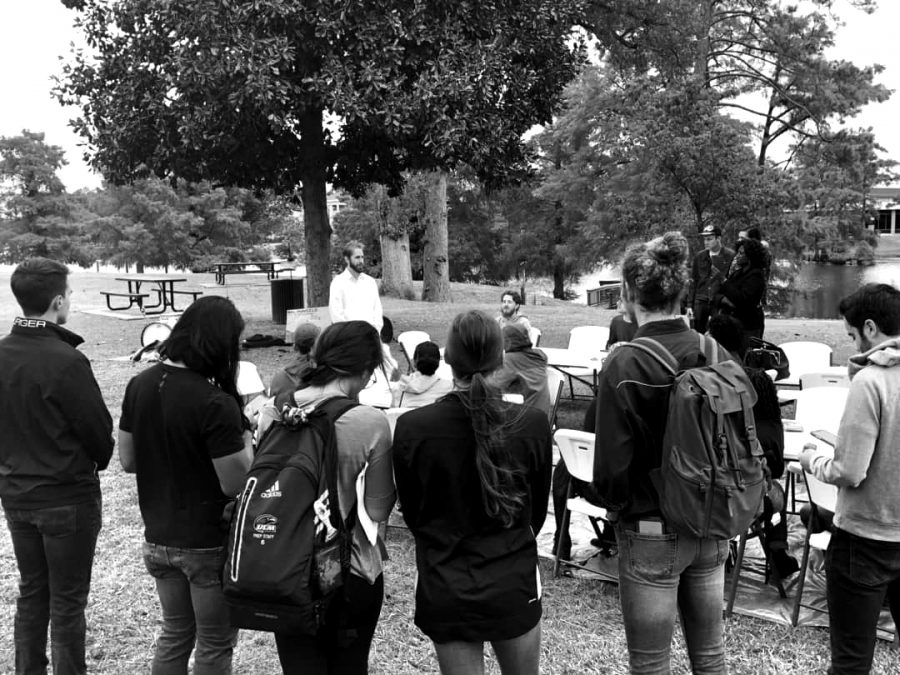 For the first time since 2014, the fifth Congressional District of Louisiana has a Democrat running for office.
Vegetable farmer and Democratic nominee Jessee Carlton Fleenor is that Democrat. Fleenor spent the majority of his morning Thursday at ULM.
The event was coordinated by College Democrats at ULM and the political science department.
Eli Bell, a senior political science major, was on the forefront of Fleenor's visit to ULM crediting near coincidence for the event coming together.
"I decided I was going to contact (Fleenor) after class, and I go to my 8 o'clock, and he's the guest speaker in (Joshua) Stockley's class," Bell said.
The event was simple. People ate barbecue, drank soft drinks and spoke to Jessee, himself. At one point during the event, he answered questions to the whole group and spoke on his campaign.
Fleenor reiterated one thing throughout his talk; that Americans need to start treating each other better.
His way of creating that change is giving people options on the ballot this year.
"In a democracy, people need options, especially if they're going to continue to believe in the system and not fall into the ultimate trap of, 'oh, my vote doesn't count,'" Fleenor said.
Fleenor kept it simple about what he wants everyone to know about what he believes in.
"The long and the short of it is that I believe that we're not reaching our full potential right now as a nation. Basically, because of all the bickering and in-fighting," Fleenor said when asked about his beliefs.
Fleenor also said there are many areas within the political arena that we're leaving undone due to this in-fighting.
"There are a lot of things that I think we could be moving forward on not just in terms of Civil Rights and treating each other better but with civic engagement even with business and commerce. There's a lot that we basically leave undone because of in-fighting and polarization," Fleenor said.
Fleenor sees his potential political career as being different than other Louisiana politicians though. He has not always been a Democrat or liberal at all.
"I grew up more conservative than I am now and came to these more progressive policies in a natural way through college, so I feel I have a special appreciation for the value of some of these thing. I believe in my ability to work across the aisle and form cooperative working relationships with moderate Republicans and Democrats alike," Fleenor said.
According to junior political science major, Toni Corso, that is evident.
"Jesse is so personable. It's refreshing to have a politician be so relatable to the people. Especially modern day politics. We don't have many politicians like that," Corso said.
Corso also spoke on the refreshing nature of his campaign crediting him for not just pushing rhetoric but being open and honest.
Getting students to vote was the main purpose of Fleenor's visit to campus.
" For us to have a chance here, we have to have the demographics that traditionally don't turn out like young people and minority communities excited and out to vote. That's why I'm here. That's why I'm always trying to be here," Fleenor said.