Government shutdown continues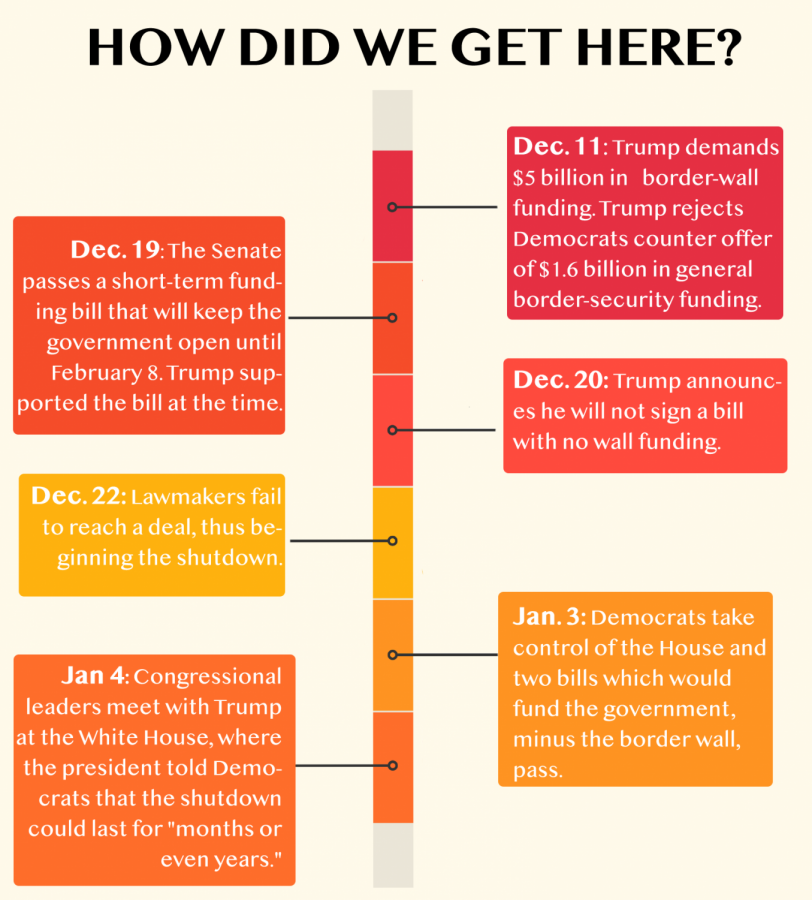 As spring 2019 rolls around, anxiety has spread across the student body in the form of the longest government shutdown ever.
After lawmakers failed to agree upon a funding plan for Pres. Donald Trump's wall on Dec. 22, the shutdown began.
Twitter opened up a can of worms when many people falsely reported that students would not be able to receive their loans for this semester.
Luckily for students, that is not the case, though, they're not quite out of the clear. The shutdown does have the potential to affect students the longer it lasts.
"The main way it has affected our students is in regard to completing the FAFSA and any supplemental paperwork required by the Department of Education in order to qualify for federal financial aid. For example, students who are selected for verification may be required to submit an IRS Tax Transcript," director of financial aid services, Frankie Everett said.
Everett has reassurance for students worried about not being able to complete these addi-tional forms.
"Any student who is still in process of applying for federal financial aid and is required to submit verification documents is encouraged to review the unsatisfied documents on Banner 'Self-Service.' Any required tax documents have been updated to reflect that a signed 2016 federal tax return (e.g. 1040, etc.) is sufficient to meet this requirement," Everett said.
Everett has also assured that Louisiana students are being advocated for and that changes have been made to help students.
The length of the shutdown may affect students the longer it goes, the higher the possibility becomes that there will be a delay on FAFSA and grant distribution.
For junior history major Cullen Collins, his fear is not just about him, but for those in the government.
"I don't put too much faith in the government; I put my faith in God. He blessed me with this job, so I know that no matter what happens, I am covered. I do pray that the government comes to a decision quickly, because there are people who are in higher positions than I am," Collins said.
The good news for Collins and student workers like him is they're not expected to be at risk to lose their job.
"The government shutdown is not expected to affect work-study student positions, since the funding has already been allocated to our campus, and we ration it throughout the year," Everett said.
Government workers on campus are at risk as some will not be paid due to the shutdown.
"For government workers not being paid, the shutdown is unfortunate and should not oc-cur. It should never be the case that someone that reports to work doesn't get their paycheck on schedule," economics professor Tammy Johnston said.
The government shutdown is not a positive reality for anybody in the country, but ULM students have a support system and a plan in place to be helped.