HAWKEYE P.O.V. – Vision 2031: Great plan, bad execution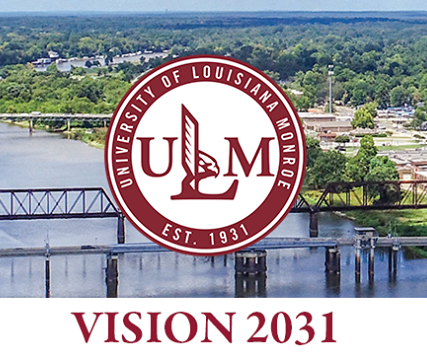 The university is in search of new ways to bring in money. Recently, a new campaign called "Vision 2031" was proposed.
"Vision 2031," is a property millage tax that the Ouachita Parish Police Jury was to vote on Tuesday, but it was pulled from the ballot.
The tax proposal, introduced by ULM, highlighted the economic impact the university has had in the area. The proposal's mission involved increased job creation and economic impact in Ouachita Parish.
We, The Hawkeye, support the proposal and its plan of not only helping better the university but also of bettering the surrounding community.
The proposal, if approved, planned to establish the region as a "premier medical and research community." The property tax would vary by property value and range from $5 to $213 annually.
George Schaeffer, who helped with the development of "Vision 2031," asked for the proposal to be withdrawn citing an "enormous amount of misinformation being spread on social media about the plan."
Schaeffer also said other concerns regarding the proposal had to be addressed before ULM could move forward with the proposal. According to Schaeffer's email, ULM president Nick Bruno also agreed that there was not enough time to address all the concerns regarding the proposal before it was brought up to the jury.
We, The Hawkeye, agree with ULM's decision to pull the "Vision 2031" proposal until further notice.
ULM and Ouachita Parish depend on one another. ULM has had an enormous economic impact in the area. According to the study conducted by Economic Modelling Specialists International, ULM contributed $566.8 million to the northeast Louisiana economy in fiscal year 2017-18.
In order to take the next step forward, ULM needs help from the public which can be established only through better communication.
We agree with the statement of needing enough time to adequately address the concerns the public has about the proposal. Hopefully, ULM continues to have an open line of communication with the public and doesn't just wait until everyone forgets about the proposal to bring it back up.
The school's marketing team needs to figure out a way to win over Ouachita Parish citizens before the proposal is brought forward again.
Options are currently limited for funding and nobody knows that better than ULM who has struggled in recent years due to statewide budget cuts to higher education.
While we hope ULM continues seeking different avenues for additional funding, we believe "Vision 2031" is still not down for the count and look forward to seeing it brought up again.