Charge up VLP players' lounge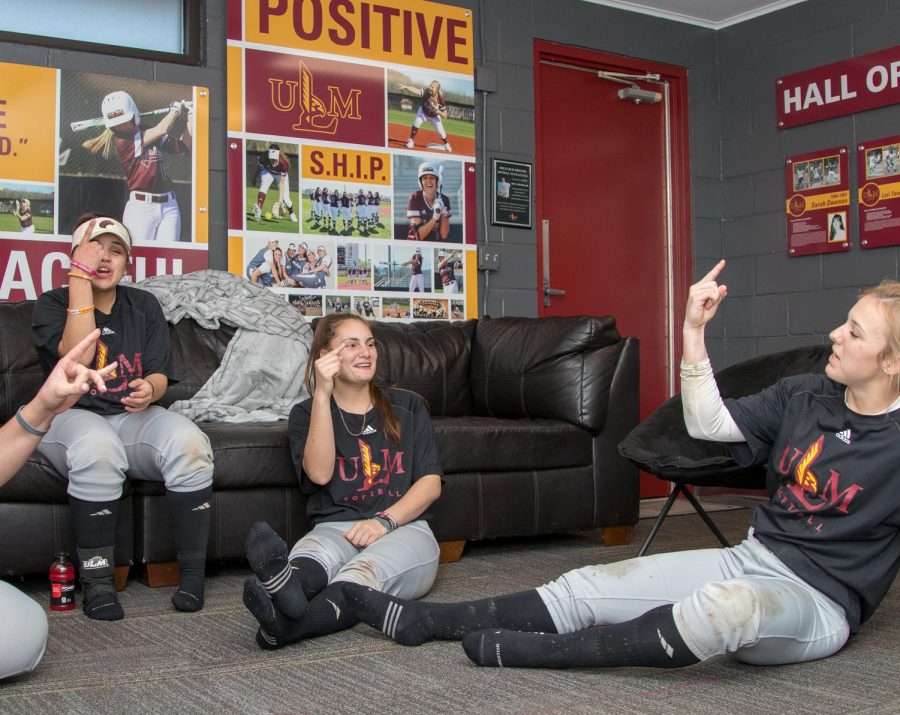 "On the front cover, there was a picture of him and his dad and it said 'VLP Team Lounge.' Right away he starts crying," said Molly Fichtner, ULM's head softball coach.
The Vic L. Pisano, Sr. player's lounge is the newest facility improvement for ULM athletics.
The lounge, named after the late father of one of coach Fichtner's best friends is a foundation piece for a softball team that is entering a new and exciting chapter of its history.
The VLP, named for the former founder of Ramano's Macaroni Grill and Rudy's Country Store and Bar-B-Que, opened its doors to the players on Jan. 19. The lounge is one of friendship and love.
Molly Fichtner got to know Victor Pisano during her time playing softball at the University of Texas at San Antonio. Their friendship began due to celiacs, a disease both Fichtner and Pisano's two girls have.
"Back then you couldn't just order gluten-free anything and all of Molly's snack bags were gluten-free and she thought it was the coolest thing," Pisano said.
As Fichtner transferred to the University of Alabama after her sophomore year as well as her various coaching stops before landing at ULM, Pisano and Fichtner stayed close.
The opportunity presented itself for Fichtner to show her appreciation for her friend earlier this semester.
Thanks to Coach Melanie Coyne, that appreciation came through the player's lounge.
"I wanted it to mean something. Coach Coyne was actually the one that said, 'Our girls love Victor. Why don't we name the lounge after his dad,'" Fichtner said.
During Thanksgiving break, Fichtner went home to Texas with a portfolio in hand with the plans to dedicate the lounge to Victor's father.
"Not even 20 minutes down the road, he calls me and says, 'Can we please do this?" Fichtner said.
Pisano funded the project and the Monday after Thanksgiving the ball got rolling.
"Before, it was just a locker room with some shower walls that we had to break down. We had to paint, get the graphics and we wanted it to be a surprise because he was going to be our MC for Trivia Night," Fichtner said.
The question for the coaching staff was how to keep it a secret.
The whole operation almost fell apart the day before the ribbon cutting when the graphics were being drilled in and a player asked when the lounge would be done, so Fichtner had no choice but to lie.
"I said, 'I don't know, but I think there's a problem with the plumbing.' And they bought it which I hate because I hate lying to them, but it was so worth it," Fichtner said.
The next day the lounge was opened under the disguise of a practice. The lounge was decked out with Hall of Fame plaques for former players, couches, chairs, books and snacks galore and a new rallying call: S.H.I.P. that stands for selfless, hardworking, impactful and positive.
"My father would have appreciated this more than if I had done this for a huge university that has all the resources. Do it for somebody that deserves it. Do it for somebody that otherwise might not have a player's lounge. This is exactly how my dad would have wanted it," Pisano said.
The beauty of the lounge and its story comes down to the coach, a coach that Pisano describes well.
"She's incredible," Pisano said.