Warhawks fall flat on road again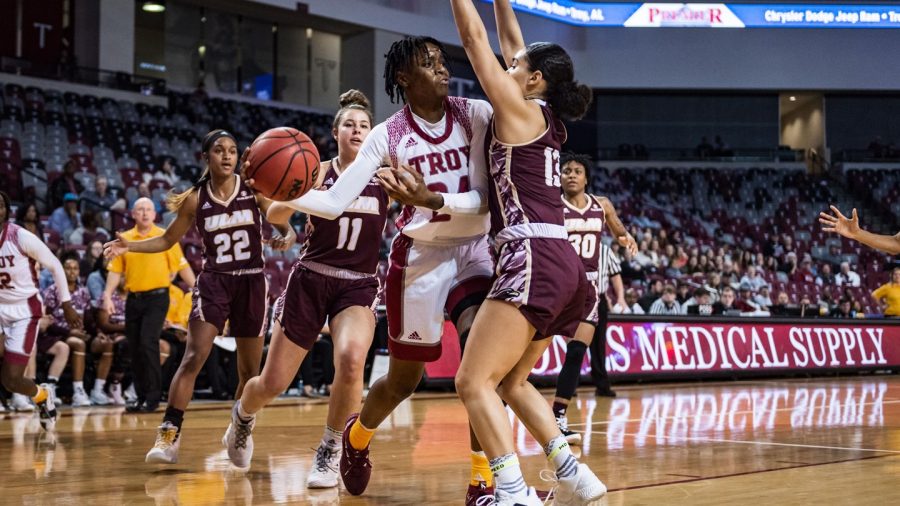 ULM falls into 4-game losing streak
The ULM Warhawks (7-9, 1-4 SBC) concluded its three-game road streak losing to the Troy Trojans 78-56 on Thursday followed by a loss to South Alabama 77-49 on Saturday. ULM is now on a four-game losing streak.
The Warhawks fell behind early in the first quarter to Troy 22-9. They were never able to catch back up and never held a lead in the game.
Sophomore guard Arsula Clark recorded 20 points and nine rebounds. No other player on the team scored in the double digits.
Sophomore center Diamond Brooks hauled in 11 rebounds and junior guard Amber Thompson recorded five steals.
"I thought the effort, the competitiveness, that was all there," head coach Jeff Dow said.
The team shot 32 percent on field goals and 18 percent on 3-pointers. However, the Warhawks also forced 17 turnovers.
"We forced some turnovers, that hasn't been a strength of late," Dow added.
On Saturday, the Warhawks took on South Alabama and started out strong, even leading at the end of the first half 31-28.
ULM even held an 11-point lead in the third quarter.
South Alabama rallied and went on a 28-3 run in the last seven minutes and held the Warhawks scoreless in the last four minutes.
Clark once again led the team with 16 points and seven rebounds. No other player reached double digits in scoring.
"What's hurt us these last couple of games is some cases one bad quarter, or some cases two," Dow said.
ULM finished the night shooting 33 percent in both field goals and 3-pointers.
The Warhawks are now averaging 56 points per game with Clark leading the way, boasting an incredible 218 points.
"It's no secret what her game is," Dow said. "A lot of what we try to do offensively, when other people aren't making shots, we pretty much have to resort to put it in Arsula's hands and try and get in the paint and draw a foul or try to get all the way to the rim."
ULM is shooting 35 percent on field goals, 27 percent on 3-pointers and 68 percent on free throws.
The Warhawks are now 7-11 on the season and 1-6 in the conference.
They will return to Monroe at 6:30 p.m. on Jan. 31 at Fant-Ewing to take on Coastal Carolina.