Fichtner takes reigns as new softball coach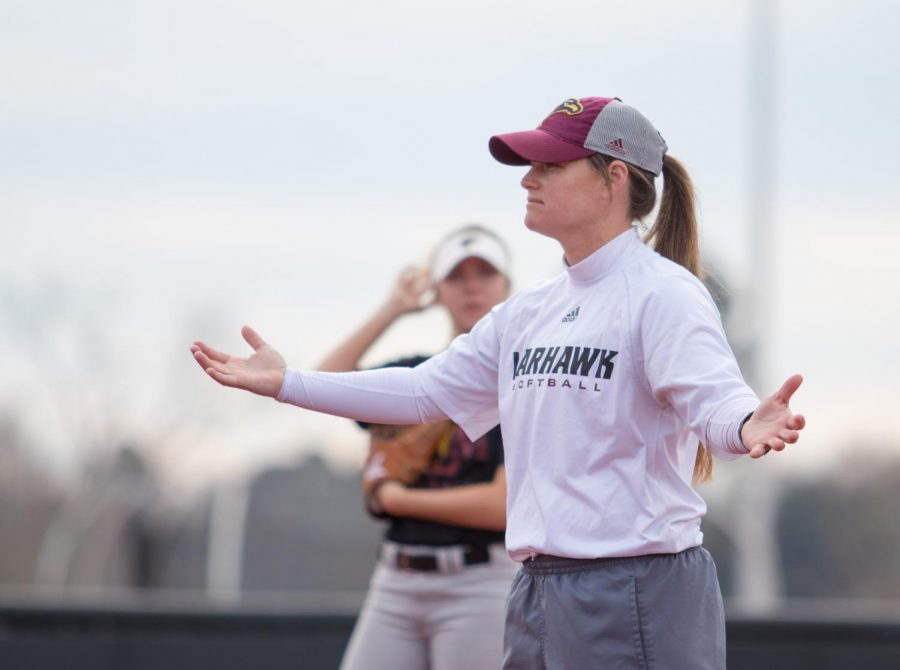 Dressed in ULM embroidered sweats and a ball cap to match, ULM's new softball coach instructs her team with an energy of appreciation and confidence.
That energy and confidence are what made new head softball coach, Molly Fichtner, the right person for the job.
The former academic All-American and second-team All-SEC catcher spent just four seasons as an assistant before becoming the Warhawks's seventh all-time coach.
The job was a shocking opening when former coach Corey Lyon left the program to join Marshall University's coaching staff in Aug. 2018.
"Dr. [Nick] Bruno thought it was important to open the coaching search when coach Lyon left. I was in the opposition," said Todd Dooley , the executive associate director of athletics.
Off-cycle job openings can be a hit or miss for programs, but when Fichtner came to ULM, Dooley and athletic director Scott McDonald knew she was the program's future.
"She was a rock star. We talked to a few other people and had a couple of other phone interviews with coaches who would have been really good, but there was no doubt," Dooley said.
Coach Fichtner felt the same way coming to the campus for the first time.
"The moment I got here, I knew this was the place for me," Fichtner said.
Since her landing on campus, Fichtner has only propelled that confidence forward.
In only a few months, she has opened the Vic. L Pisano, Sr. Player's lounge, started construction on new batting cages and has created new traditions for the program.
These changes have created a whole new atmosphere for the softball program as a whole. Senior outfielders Victoria Pederson and Sydney McKay are both happy to see that future Warhawks are taken care of.
Freshmen, too, have been moved by Fichtner.
"Coach Molly has been an absolute blessing for me coming in as a freshman! At first, I was scared hearing that the coach I had committed to wouldn't be the coach I would be playing for," said freshman pitcher Blaire Wilson.
Building the softball program was a huge part of what Fichtner wanted.
"ULM is right for me because I believe we can be very successful. I love to work and I know that we will have to work hard to be successful. Nothing is handed to you and I love that," Fichtner said.
Fichtner lives by that idea. Her college story is an example of that. She went from starting and dominating at the University of Texas-San Antonio to the Univ. of Alabama where there was much more uncertainty.
"Fortunately, my family is my rock… My parents said, 'Look, we'll postpone retirement. You can walk-on. If they give you a spot, we'll pay out of state. Whatever you need. Just finish your career there.' I went to Alabama. I took notes at every meeting. I took notes because I wanted to understand. Playing was icing on the cake," Fichtner said.
Fichtner was always going to play, though, as friend Victor Pisano tells it. Her opening weekend freshman year, she showed off in front of Alabama.
"That weekend as a freshman, she hit five home runs. You just don't do that," Pisano said.
Fichtner was a part of an Alabama team in 2014 that got into the finals her senior year. Then, she moved into the role of graduate assistant.
"She always had a growth mindset as a player and as our volunteer coach," said Patrick Murphy , the head coach of Alabama's softball team.
Fichtner credits her early coaching success to her transition to Dartmouth.
"Going up to Dartmouth for my first job was very eye-opening because those girls are incredibly smart and incredibly analytical… I had to figure out how I was going to communicate with them," Fichtner said.
Former Dartmouth head coach and current Syracuse head coach, Shannon Doepking saw that Fichtner always paid attention to the little things.
Fichtner then transitioned to East Carolina University for a year, where unsurprisingly she left an impression.
"One thing I try to do with all of my assistants is to put them in charge of areas that they haven't had experience in so they can grow as coaches who can teach the entire game. Molly handled that challenge with the utmost confidence," said Eastern Carolina's head coach Courtney Oliver.
The season has no expectations for Fichtner, but to be high energy.
"ULM is a great kept secret. I want for people, when they come to a game, to see high-energy and an exciting team to watch," Fichtner said.