Jebet and Keter: Kenyan distance duo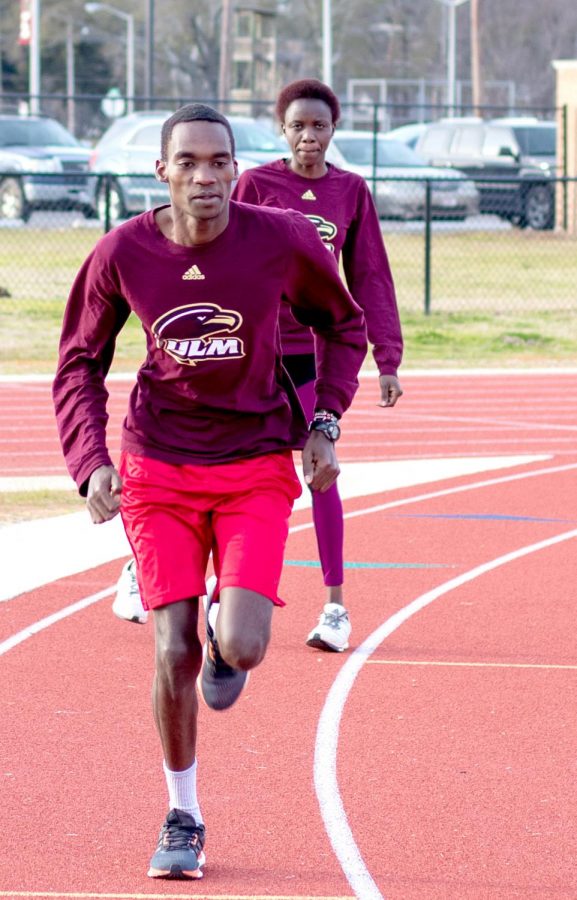 From Eldoret, Kenya to Monroe, senior distance runners Edith Jebet and Elias Keter have made the most of their experiences in America.
Keter, the first-born child, has two brothers and two sisters, but will quickly tell you that they don't run at all.
"I tried to get my sister to run, but she said 'No'," Keter said.
On the other hand, Jebet comes from a running family.
"My dad was a runner before, but he quit. I have three sisters and they all run track. One of them is in Alaska, but the other two are studying in Kenya," Jebet said.
The son of a farmer and a stay-at-home mother, Keter never thought about track competitively.
"They used to make us run every day after school. Everybody had to do it. I always had fun running, but when I finished high school, I never thought about doing track," Keter said.
Poor conditions at the school track didn't help matters any.
"The team in high school wasn't very good and because the track wasn't very good, we could only run short distances," Jebet added.
Both Jebet and Keter had medical aspirations for their futures. However, things were about to take an interesting turn.
"I wanted to go to pharmacy school. We had to take a test and I didn't have the score to get in, so I decided to come here because it was a really good opportunity," Jebet said.
Keter had the grades, but turned down a sponsorship from the Kenyan government.
"The university was near Somalia where a lot is going on because it's our Islamic part. I didn't want to go because it was too far away," Keter said.
With Jebet already on her way to America, Keter still needed some convincing.
"Hillary [Kirwa] already went here and said, 'If you're good at running, try it and apply for school.'," Keter said.
Keter was ready to make the jump, however, one road block stood in the way-his mother.
"She was very against me coming to America because she thought I was too young. She was so scared," Keter said.
In the end, Keter made his way to Monroe as well and they were both off to the races.
Last season, Jebet was a very important part of the women's side while Keter placed third in the Sun
Belt on the men's side. Their success last season was due in part to new distance coach, Chris Warren.
"Both of them had great seasons last year. There's always a learning curve when a new coach comes in. By the time outdoor track rolled around, they both were doing really well," Warren said.
Warren, who is now in his second
year as distance coach, really expects for Jebet and Keter to hit their strides.
"When I first came to ULM, it was my first time interacting with international students. But now that we've gotten to know each other, the goal is to do even better than last year," Warren added.
Both Jebet and Keter have the same goals, however, Keter has one that goes a little more personal.
"This is my last season and I want to do better. I want my parents to come see my last race, especially since they don't believe I run," Keter said.
Keter's mother couldn't believe he could run because he was so lazy as a kid.
"I would tell her, 'I'm too tired. I can't go to school.'," Keter added.
Jebet, a toxicology major, has high aspirations after college.
"I want to stay here for some time and then go back to Kenya to become a scientist and focus on forensics," Jebet said.
Keter, a health studies major, doesn't quite have it all figured out yet.
"I'm not really sure if I'm going to stay here or go home. But for right now, I want to go to graduate school," Keter said.
No matter where their life goes, the distance duo of Jebet and Keter will always have two places to call home.