Track & Field dominates in Bayou Bengal meet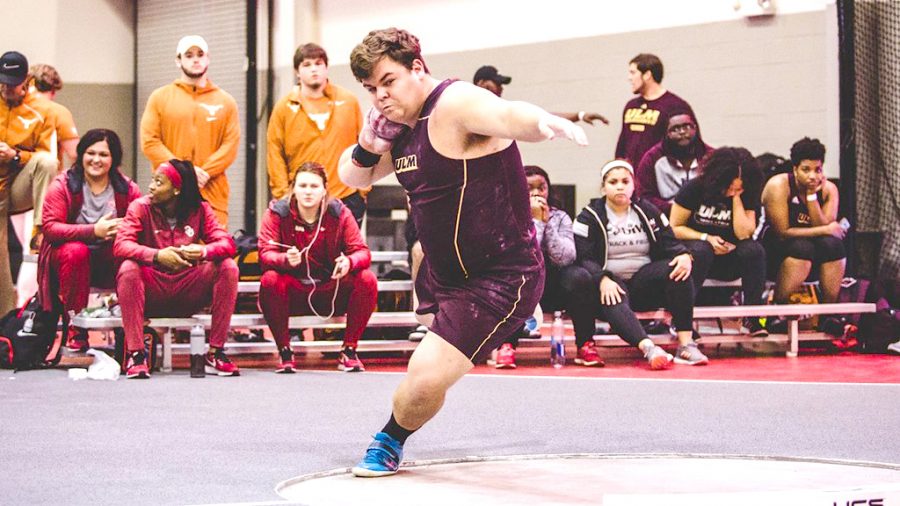 The ULM track and field team has once again showed up and showed out proving just how talented they are. Yesterday's track meet was in-state located in Baton Rouge for the LSU Bayou Bengal. Although in-state for ULM, there were many teams at the meet from all over the country.
The ULM women's track and field team took a total of two first-place finishes, five top-three finishes and eight top-five finishes. The men's team ended the meet with a total of three top-three finishes and seven top-five finishes bringing the totals to two first-place finishes, eight top-three finishes and 16 top-five finishes between the two teams.
Brianna Sam, a sophomore from Pearland, Texas, and Sharon Jerono, a freshman from Kitale, Kenya, took home the highest placings for the women's track and field team. Sam placed first in women's weight throw with a throw of 18.35m and Jerono took home first in the women's one mile run with a time of 5:19.34.
Brittney Roberson, Fiebe Tengrootenhuysen, Niaya Fant and Sydney Curry stretched passed the finish line in the 4×400-meter relay and grabbed the third-place title with a time of 4:02.56.
The women weren't the only ones who showed up ready for race day as Jakob Fudge, a freshman from St. Francisville, placed third in men's weight throw with a throw of 16.81m.
Also, bringing home third place was sophomore Sam Healy in men's long jump with a distance of 7.29m with teammate Colm Bourke following in behind for fourth place with a distance of 7.15m.
The next meet will be the Samford Invitational on Feb. 8 in Birmingham, Alabama.
This invitational will be a bit of a road trip for the Warhawks, but based on their high placings of this past meet, there are high expectations for the Warhawks in Birmingham.