Hal Mayfield, band reveal 2nd album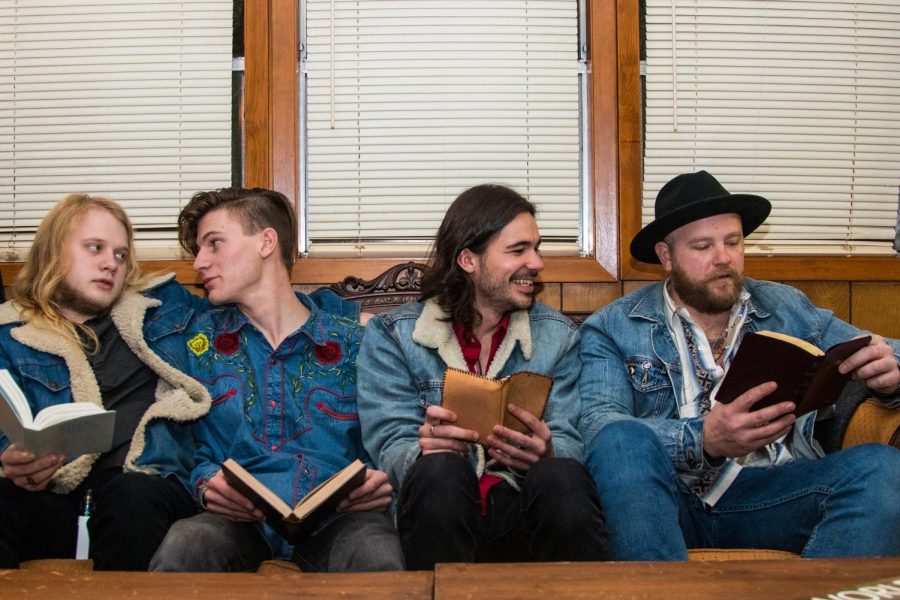 In the middle of the trailer's living room is the old orange couch of a now-dead man. Jamison and coffee sit on the counter in the living room-made studio.
Freshman English major Hal Mayfield stands in the left-hand corner of the room conducting his bandmates in a practice of their new album, "Ghost Stories."
The band, Hal Mayfield and the Velvet Cowboys, in its current form, is a quartet led by Mayfield with ULM junior psychology major and drummer, Cole Deriso alongside guitarist Brindan Eisler and bassist Jacob Lofton, who also plays with another band, Astro Motel.
The process to nail down Eisler and Lofton as the other members was a process of swing and miss.
"Me and Cole started playing together about three years ago and just rolled with that for a while, because we couldn't get adding any other members to work out," Mayfield said.
The new album hit stores in late 2018. The album is the continual culmination of Mayfield's dream.
After the release of the album, Mayfield and the band toured three different states. However, the tour stalled for a short period of time due to transmission issues in a remote part of Kansas.
"There was nothing but a gas station and a truck stop. There were at least twelve cats around one food bowl and just two wrinkly, old ladies," Mayfield said.
The 10-song album released Nov. 16, 2018, is the second album of Mayfield's that he's created. The whole album was created by Mayfield and Deriso.
Like most college kids, Mayfield and Deriso created a DIY set-up in their Calhoun trailer.
The majority of the album was created there, and the other portion was at Mayfield's parents' home.
The set-up was due to the lack of insulation for proper studio sound in his parent's house.
So, like any budding musician would do, he put every blanket and pillow into his bathroom to insulate it. This became his makeshift studio for a while.
"I didn't do it very well- the part I recorded at my parent's house I taped sleeping bags to the ceilings above the drum kit and like crammed pillows into the light fixtures over that. I had to re-do it every time I went in there," Mayfield said.
The humor and success of it came when Mayfield and Deriso moved into their own home.
They remade the set-up but never bothered to take it down.
This hard work and creativity have been in Mayfield's life for a long time. This stemmed from a love of the fiddle and success playing the fiddle when he was young.
"He was very serious about his fiddle playing and became a state championship contender as a young teenager," said Damon Mayfield, Hal's dad.
The fiddle was his gateway, but a concert by The Avett Brothers confirmed for Hal that music was it.
"On the way back to the car he said 'I no longer have any doubt what I want to do with my life,'" Mayfield's dad said.
Beyond musical success in contests, Mayfield loved music so much that he carried his guitar at dusk to Lover's Leap in Queen Wilhelmina State Park.
"Hal was carrying his guitar the whole hike and when we got to the top we both sang and played as loud as we could," Deriso said.
The Deriso and Mayfield partnership happened by chance three years ago, when they were both in high school.
"I had literally never touched a drum set in my life until my uncle moved and gave me his kit. Hal asked if I wanted to play with him, I said 'yes,' and a week later, we played in front of people for the first time," Deriso said.
The time in between their beginning to now has been full of a strong dedication best achieved by musicians. Today, the goal is the same going forward.
"Next is a lot of writing, hopefully, some more recordings soon and definitely a good bit of touring this summer," Mayfield said.