Oliver: Female athlete of the year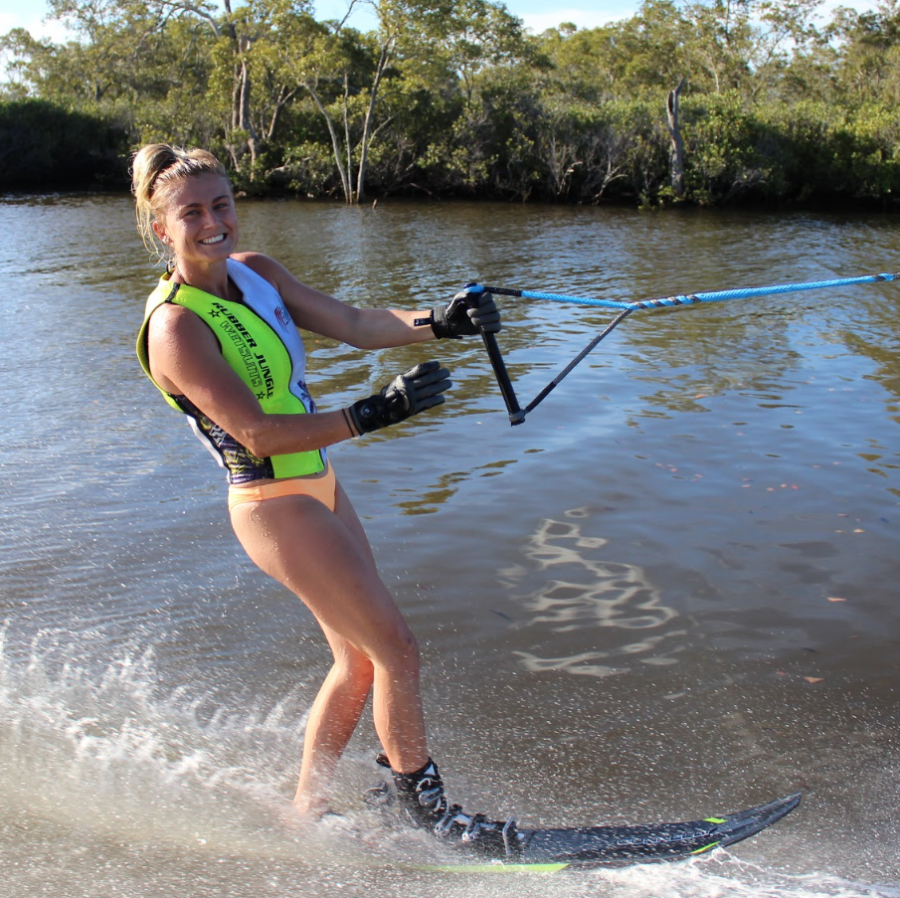 "Last spring, Siani became the 'president' of the team. We could see that she was really invested in what she was doing, and it felt good to see a person as motivated as us to succeed as a team," said Emma Brunel, fellow water skier.
Siani Oliver, a slalom specialist from Australia, was recently named National Collegiate Water Ski Association female athlete of the year and was an integral part of ULM's 29th national championship team.
Before Oliver and the team competed at nationals, Oliver tied the women's slalom record at the South Central collegiate regionals with a record of 105 buoys, three at 39.5' off.
The event is a challenging one where the skier uses only one ski to navigate a series of challenging buoys.
Oliver grew up in Gold Coast, Australia and learned to ski with her father. While most water skiers start competitively when they are young, Oliver didn't start until she was 15. However, a great supporting cast was beneficial to Oliver's quick success.
"There was a group of five of my dad's mates that we used to ski with every Saturday and without the help from those blokes, I definitely would not be where I am today," Oliver said.
Despite ripping it up on the water, Oliver didn't want to come to school right away and contributes the break to part of her success.
"I took a 'gap year' which basically turned into five gap years. But I had to improve my skiing abilities to enable a scholarship," Oliver said.
Those gap years allowed Oliver to travel and train with some of the best skiers and coaches in the world.
"She's skied with a lot of people ,and that's very important. You always want to take as much advice from people as you can," said Michael Woodgate, a graduate assistant.
During her travels, Oliver ended up in Orlando one summer skiing with two members of ULM's water ski team.
"They didn't have a single bad word to say and said I would be silly not to try," Oliver said.
Oliver focused all of her efforts on becoming the best and six months later, she became a member of the ULM water ski team.
Not only was Oliver new to ULM, but so was the coach, Joey McNamara.
"When Siani showed up at ULM, I was also brand new, and she was gung-ho from the beginning," McNamara said.
Immediately, Oliver became a leader on the team because of her ability to adapt. Not only did she have to focus on slalom, the depth of the team was short in jump and trick. Oliver was asked to ski in those events as well and proved in the process that she was 100 percent a team player.
Oliver has made an impact on the water, but her biggest impact has been off the water.
"When somebody has a bad set, she's the one that is there consoling them, but also, when someone does really well, she's the first one to get to that person," McNamara said.
"She's very upbeat, forward, positive and one of the main voices on the team," Woodgate said.
A team that has many people from different parts of the world can be troublesome, but Oliver always has a way of dealing with the situation.
"Trying to pack 20 people from 15 different countries on one team and expecting them to work together in a largely individual sport is difficult. Siani is able to diffuse any problems they might have," McNamara said.
Because of Oliver's ability off and on the water, she was able to tie the women's slalom record at regionals and help lead the team to their 29th national championship.
In the end, Oliver's hard work paid off with the female athlete of the year award.
"I was absolutely beside myself when I was told I had won the award. I am very thankful for my family and teammates that have supported me throughout this entire experience," Oliver said.
No matter what the future holds, Oliver always has a spot in the Warhawk community's heart. And many people can describe her many different ways. However, Brunel sums it up pretty well.
"She's a friendly, energetic, combative, but sensitive person and efficient in what she is dedicated to doing. I'm so glad I was able to meet her and have her as a teammate," Brunel said.