Warhawks avenge losses to Georgia teams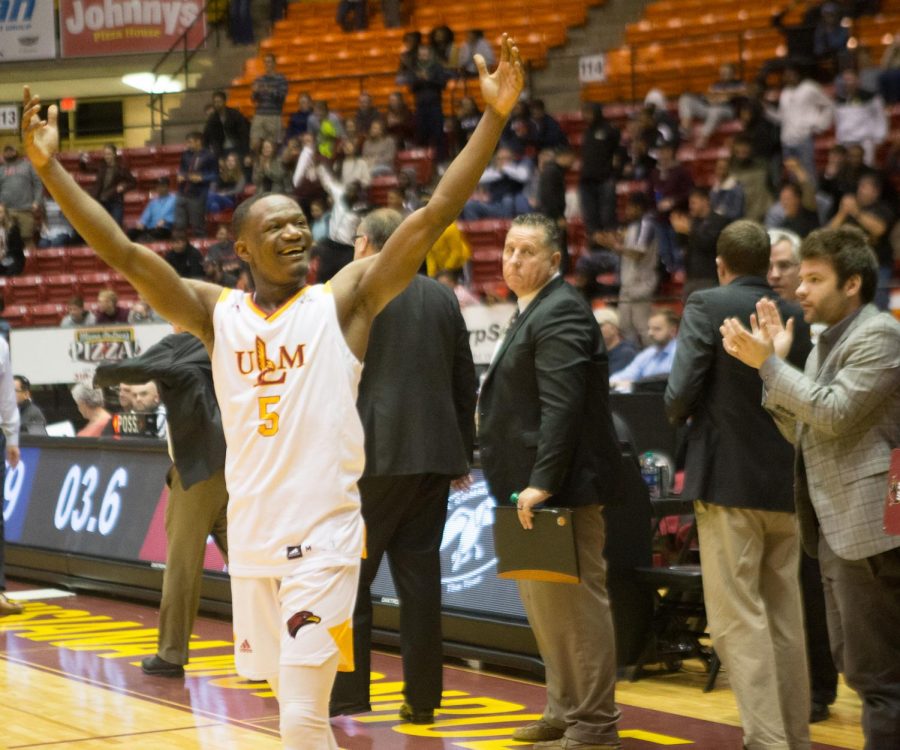 ULM defeats GA State 82-76, GA Southern 88-79
Recording 74 points, 14 rebounds and 13 assists in just two games, it was clear that Daishon Smith was on another level as the Warhawks hosted two tough Georgia teams this week in Fant-Ewing Coliseum.
After suffering heartbreaking losses in contest against both Georgia State and Georgia Southern a few weeks ago, ULM had something to prove, and they did just that by winning both games in exciting and dominating fashion.
Wednesday's game saw ULM win a hard-fought battle against conference leader Georgia State. The Warhawks were able to put together a 9-0 run in the final two minutes of the contest to secure the 82-76 victory.
Smith was responsible for 36 points, eight rebounds, seven assists and three steals while scoring a clutch seven of the final nine points to help win the game. Smith's shooting was key towards the Warhawks success as he also went a perfect 11-11 from the foul line and tacked on five 3-pointers.
The victory snapped a three-game losing streak for the Warhawks and pushed their record to 12-10 while being 5-5 in the conference.
Smith wasn't the only Warhawk to have a big game though. Travis Munnings, who led the team with nine rebounds, scored 12 points of his own alongside Michael Ertel and JD Williams who also scored 12 points in the game.
The Warhawks stayed hot entering Friday's contest as they took on a good Georgia Southern team in a game that also came down to the final minutes.
ULM was able to secure the 88-79 victory behind Smith's second monster performance in a row. He recorded 38 points, six rebounds and six assists while shooting an impressive 50 percent from the floor.
Smith also hit five more 3-pointers during the game and went 13-15 from the foul line.
Munnings was also a big contributor in Friday's win as he added 17 points and 11 rebounds to the Warhawks total. Ertel wasn't far behind with 15 points, five rebounds and two assists of his own.
The win avenged a tough buzzer-beater loss earlier in the season to Georgia Southern and pushes the Warhawks record to 13-10 while being 6-5 in conference play.
ULM now sits in the middle of the pack in conference standings. Currently tied for fifth place with Georgia Southern, the Warhawks are only five games behind the first place Texas St. Bobcats.
The Warhawks will be back in action for a 7 p.m. tip-off on Saturday, Feb. 16, as they hit the road to take on the Louisiana Lafayette Ragin' Cajuns in the Cajundome.