Track & Field throws away competition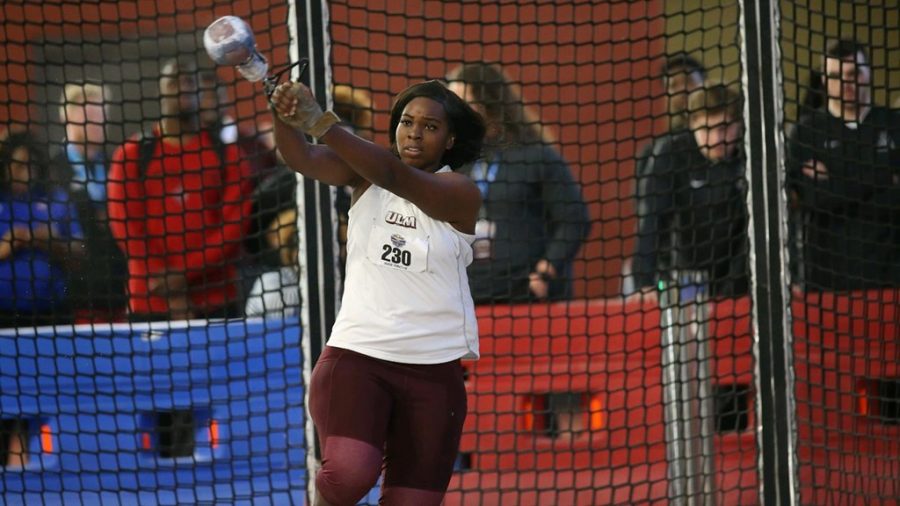 The Warhawks soared in and swept up five top-10 placings on the opening day of the Sun Belt Conference Indoor Championships last Monday in Birmingham, Alabama.
On March 8-9, a handful of ULM's best will be chosen to compete at the NCAA Indoor Track & Field Championships while the rest of the team will travel next door to McNeese on March 9 to begin the outdoor season with the McNeese Cowboy Relays/Bob Hayes Louisiana Challenge.
Sophomore Brianna Sam showed up ready to win as she threw 20.19m. She earned her first indoor championship and broke a school-record. This performance also allowed Sam to slide into the NCAA top 35 for this season.
Sophomore Sam Healy also had an awarding opening day as he placed third in the men's long jump with a jump of 7.40m. Healy wasn't the only one who had a successful long jump. Following close behind was his teammate, Colm Bourke, with a jump of 7.09m which landed him sixth place.
The men's distance medley relay team consisting of Brandon McDonald, Nolan Smith, Eric Hawkins and Elias Keter crossed the line fifth in a time of 10:20.98.
On the final day at the Birmingham Cross Plex, Micaiah Dendy, Healy and Hawkins snagged the three highest placings of the day for the Warhawks.
Dendy placed third in the women's triple jump with a leap of 12.40m. Hawkins came flying in on the men's 800-meter run with a time of 1:55.08 and earned a third-place medal as well.
Also, earning the Warhawks a few points on the second day was freshman Eran Siboni. Siboni placed fourth in the men's 400-meter dash and set a new personal record for himself with a time of 48.37.
Junior Austin Walker beat five of his personal records in the men's heptathlon and scored a total of 4,863 points which lead him to place ninth overall.
Walker wasn't the only one crushing personal records. Rebekka Schubert earned season bests in four of five events in the women's pentathlon. Schubert set a personal record of 3,214 points and finished 11th overall.
ULM had 11 individuals and three relays earning points for the Warhawks throughout the two-day competition. The men's team finished the competition in eighth place with a total of 40 points and the women finished up placing ninth with 21 points.