Library mixes class with virtual reality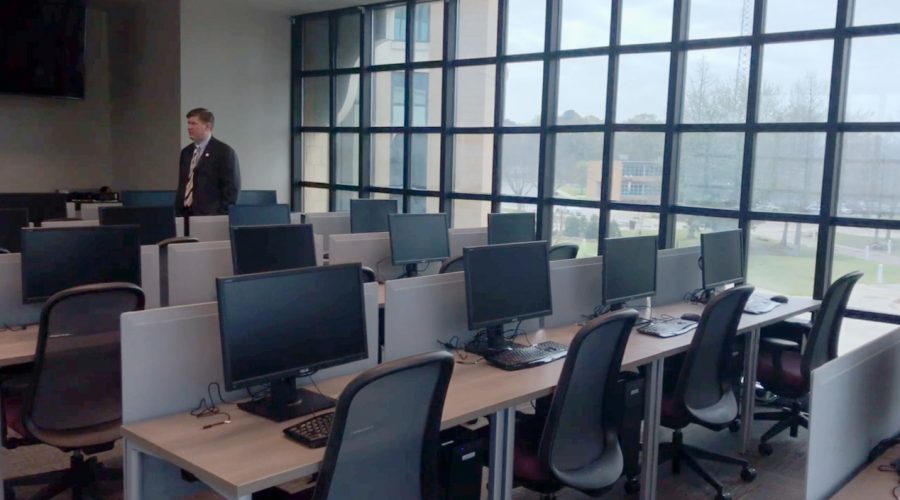 As the clock counts down towards the ULM Library's 20th anniversary this April, continual upgrades are being made. Step one was the second floor renovation. Next is their new virtual reality (VR) room.
The VR area is off in the side of the second floor. It's a room with top of the line computers, 29 headsets for VR and even some barf bags.
"These machines have 16 gigabytes of RAM. They are the highest performing lab type computers on campus," said Thomas Hoover, CIO and dean of the library.
The virtual reality area will also be accompanied by a maker space area that includes multiple computers and a 3D printer in the same area.
The virtual reality experience will be used across disciplines to be an addition to classes.
"Biology working with one professor on human lung anatomy, human digestive system, human spine, human heart structure, blood vessel structure, human eye anatomy and human head anatomy," Hoover said.
The beautiful reality of the VR is that biology will not be the only major. Construction management will be able to see buildings before they're built, marriage and family therapy will be able to sit in on a therapy session and speech and language pathology will be able to literally see what the tongue is doing.
Even English majors will be able to put themselves into a place and do exploratory writing based off what they're looking at.
Virtual reality, though, is not the only use of the lab as the hope is to also do augmented reality.
"We want to continue to expand, not just to VR but to AR too. VR is the stepping stone; AR is the next step," Hoover said.
The step towards AR is especially important for majors like computer science that will be able to get hands-on experience with these technologies while they're still relatively new.
"With continued support for the VR program at ULM, we help a lot of people with product realization. Computer science students can visualize whatever the next wave of computing innovations are," said Armand Arcilla, a senior computer science major.
Arcilla also recognizes these advancements as wonderful marketing opportunities for both the computer science program and the university as a whole.
"This will certainly expose how densely packed with the talent the program is and draw in more students who may not have considered pursuing a CS degree," Arcilla said.
The success of the VR area goes beyond just individual majors though as the university will allow for grades K-12 to use the space for learning.
The general public, too, will be allowed to use the space.