ULM's run comes to end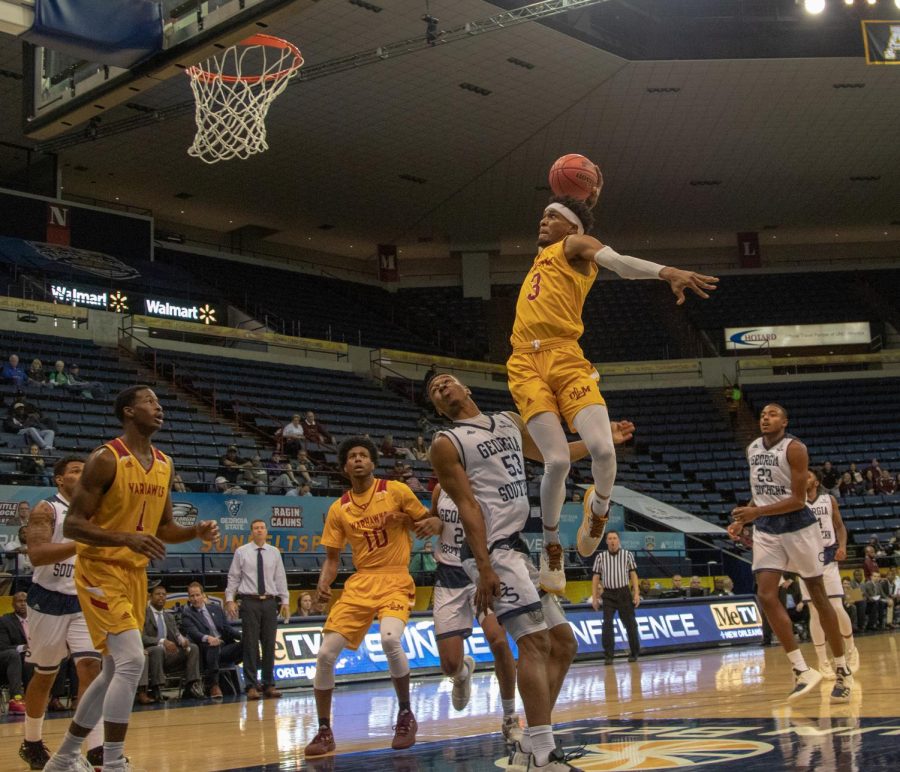 With 14:19 left in the first half, ULM forward, JD Williams, drove down the lane for a momentum-changing slam dunk, but missed. The missed dunk spoke to the whole weekend for Warhawk basketball.
The busiest week of the year for the Warhawks ended in sadness, falling to Georgia Southern in the quarterfinal of the Sun Belt men's basketball conference tournament, 81-67.
The outcome finished an otherwise successful season for ULM. The sadness involved is the loss of the seniors, specifically soon-to-be legends Travis Munnings and Daishon Smith.
The bright side to the loss is that one of the best players over the three games of the week was sophomore and now two-time Third Team All-Sun Belt guard, Michael Ertel.
ULM head coach Keith Richard noticed as much after the win versus Appalachian State, 89-80.
"Michael Ertel was very good down the stretch," Richard said. "Anybody who has watched Mike play the last two years knows he can do those things in one-on-one situations, particularly late in the game when we can spread the floor."
Ertel led the team in scoring against both Georgia Southern and second-round win against Coastal Carolina with 16 and 20, respectively. In the first round win versus Appalachian State, Ertel scored 16 as well.
Each game followed a similar pattern; one team shot poorly from the field.
Against Appalachian State, the Warhawks won 89-80. ULM shot 50 percent from the field. The Mountaineers's final line of 47 percent seems solid, but the first half is what ultimately ended their chance of an upset at Fant-Ewing.
In the second round matchup against Coastal Carolina, the poor shooting percentage was taken to the extreme. For the game as a whole, the Chanticleers shot a paltry 29 percent from the field and 20 percent from three. The poor shooting was the main factor in an 80-50 win for the Warhawks.
The Warhawks' knockout blow, though, was what had gotten them so far- shooting. In the first half, the Warhawks shot only 30 percent from the field.
The half-time deficit was 16 points and the Warhawks never got back into the game.