Travis Munnings: Greatest Warhawk men's basketball player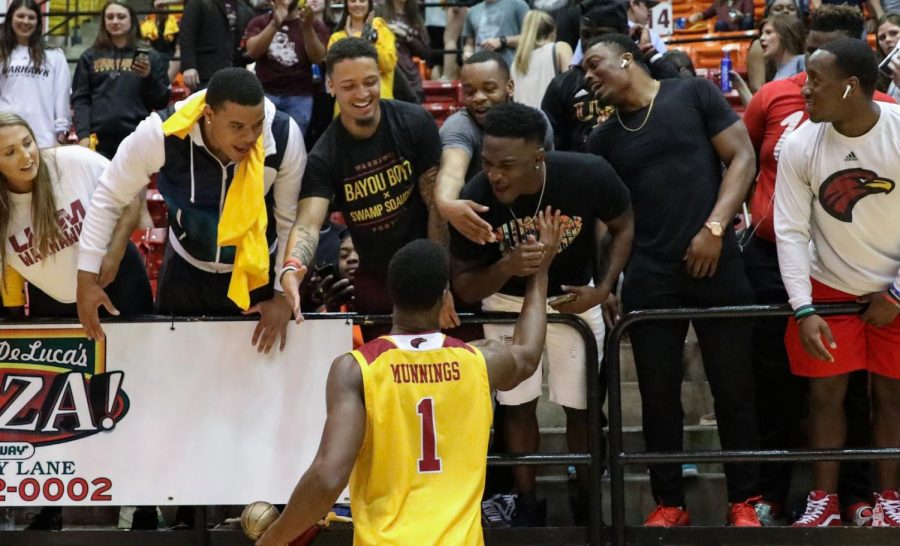 The most important number in ULM's victory over Kent State was 133. It wasn't the final score for either team. It wasn't the number of shots or combined points. It is the number of games played in senior forward Travis Munnings' historic career. The new all-time record for basketball games played as a Warhawk is 133.
That number, as well as his dominant performance against Kent State, raises an important question: is Munnings the greatest Warhawk men's basketball player of all-time?
Taking that game alone, the answer is potentially a solid yes. In the first round of the 2019 CollegeInsider.com Postseason Tournament, the Warhawks won 87-77.
Munnings showed everything that makes him dominant in this game. He scored 28 points, hit five 3-pointers, secured nine rebounds and assisted on four plays. The game got him the Lou Henson Classic MVP.
Beyond this game, the argument still remains strong. Travis has been a staple of the ULM program since he's stepped foot on campus.
In his freshman year, Munnings started half the games he played in and averaged a solid 7.2 points and 5.4 rebounds.
These numbers have only improved since Munnings led the Warhawks in both points and rebounds his sophomore year with 13.2 and 8.1, respectively. His junior campaign was even more impressive with 15.9 points and 7.3 rebounds on his way to an All-Sun Belt Second Team, an NABC All-District 24 Second Team appearance and even All-Louisiana Third Team Honors.
The accolades are not just what makes Munnings great. He is arguably the most noticeable athlete on the whole campus. Munnings consistently supports other athletic teams and organizations on campus. He clearly loves the university and the university loves him back.
When asked whether or not he's the greatest of all time, Munnings answered both humbly and honestly.
"I would hope but I have got to leave that up to y'all [media]. I can't say. Y'all put me in the category and I will take it," Munnings said.
Munnings is the leader of the men's basketball team and has been for years now. He is weighed down with accolades and love from the university. He is a consistent performer. Munnings is everything you want in a player when you're on the recruiting trail.
For me the answer is easy, Munnings is easily the greatest Warhawk I have seen and is definitely the greatest Warhawk of all time.