Warhawks shine in front of NFL scouts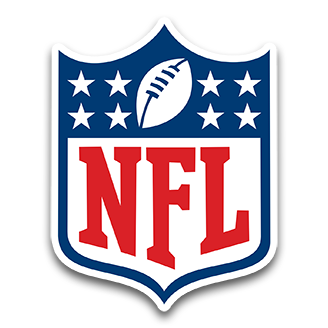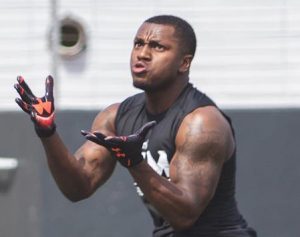 A stocky, power running back from Syracuse, New York, Derrick Gore made the most of his time at ULM. Gore originally committed to the University of Alabama and played for the Crimson Tide for two seasons before transferring to ULM.
Gore immediately carried the load for Warhawk running backs and culminated in a stellar statistical senior year. Gore ended the season with 662 yards on 131 carries for an average of 5.1 yards per carry and six touchdowns.
At ULM's Pro Day, Gore dominated the bench press with 24 repetitions at 225 pounds. He also had a 34-inch vertical and ran a 4.55 in the 40-yard dash.
Gore also looked fantastic in position drills and made catches out of the backfield with ease.
"I was a little nervous at first, but it was easy to settle in," Gore said.
Gore also said he has signed with an agent and plans to keep training before the draft.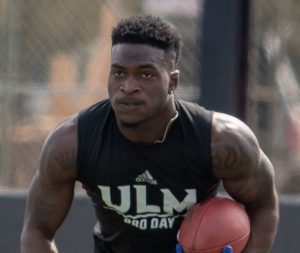 The Mississippi native is the most versatile player of the group. Marcus Green was named All-Sun Belt First Team in 2017 as a return specialist and all-purpose player, and again in 2018 as a wide receiver and all-purpose player.
Green led the team this past season with 50 receptions, 855 receiving yards, eight touchdowns and 1,518 all-purpose yards.
Green also impressed scouts during his workouts at pro day, especially with his returning abilities.
Green posted a 4.39 in the 40-yard dash, a 37-inch vertical and 14 bench repetitions at 225 pounds.
"I feel like I showcased my God-given talent and it felt good to be out here with my teammates. It was a special moment for all of us," Green said.
Green participated in the most drills out of anybody, including wide receiver, running back, kick and punt returner.
Green hopes to play for a team where he can make the most impact.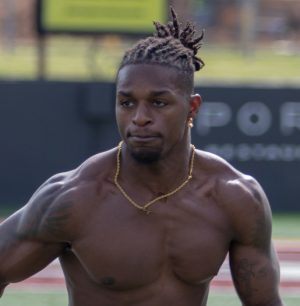 The dark horse in this group has been a silent leader with laser focus. David Griffith came to ULM from Plano, Texas, and made an impact the moment he stepped onto the field.
Griffith was named All-Sun Belt Second Team after the 2018 season. He ended the season with 92 total tackles (44 solo tackles), five sacks and one forced fumble.
Griffith was a big part of the destructive front seven that ULM used this past year.
Griffith had impressive numbers at pro day. He had a 32-inch vertical, 14 bench repetitions at 225 pounds and ran a 4.63 in the 40-yard dash.
"I'm working on my masters in criminal justice right now and I've got a lot going for me. I'm just happy to be able to compete," Griffith said.
Griffith showed his fantastic speed and control during the position drills. He also hopes to play for a team that's happy enough to have him.