ULM continues postseason play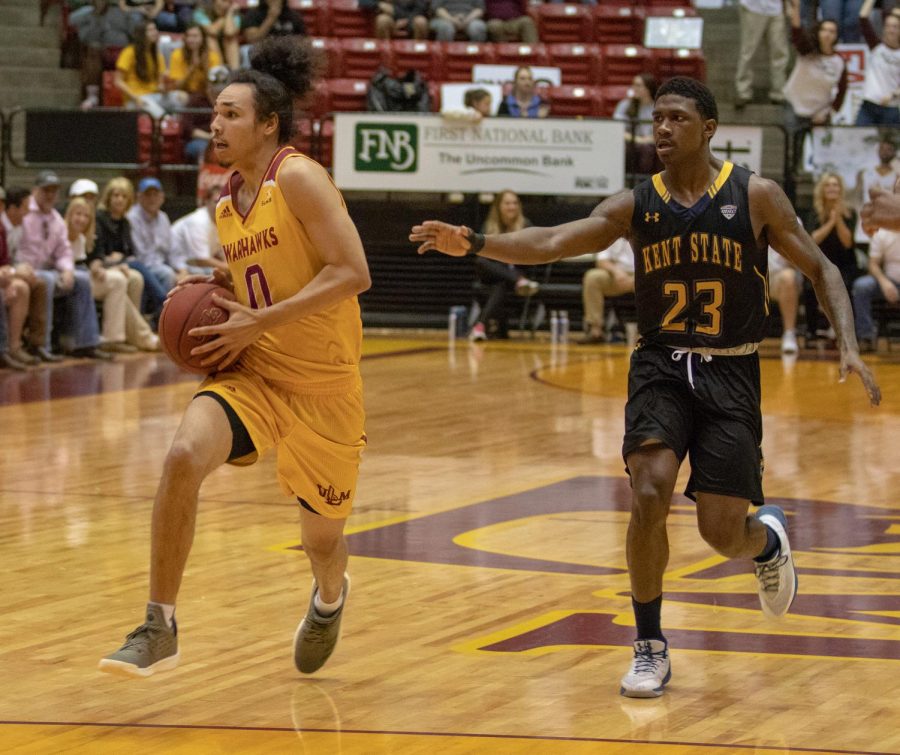 The world gives few second chances and when it comes to sports, those chances are even slimmer. The Warhawks, though, were given that chance and they did not disappoint.
After falling in the quarterfinal of the Sun Belt Conference tournament to Georgia Southern, 81-67, ULM was invited to the 2019 CollegeInsider.com Postseason Tournament. In the first round, the Warhawks matched up against the Kent State Golden Flashes.
The Warhawks won the matchup, 87-77, in a game that really was not that close. ULM dominated the second half behind an electric Travis Munnings and an even more electric home crowd.
The Warhawks' win secured them a second-round bye and a quarter-final home game any day from March 27 to 31.
"It had to be exciting to watch," said Keith Richard, ULM head coach. "It felt exciting just being on the sidelines. I'm so proud of the fans coming tonight, the students and supporters coming. It was an electric atmosphere."
ULM shot an astounding 57 percent from the field and 61 percent from the 3-point line. Munnings shot 10-13 from the field, 5-6 from the 3-point line to go along with nine rebounds and even secured MVP in the Lou Henson Classic.
"It's got to be up there, top three as one of my all-time favorite games," Munnings said. "It was amazing to give them all we've got and have fun and compete."
Forward JD Williams locked down the opposing team's players and even put up 17 points. Guards Daishon Smith and Michael Ertel put up a combined 30 points as well and combined for eight assists.
The second half was the icing on the cake for the Warhawks as they outscored Kent State, 45-36. At one point, the lead for the Warhawks swelled to 17 with three minutes left in the second half.
"Our players are thrilled with being provided an opportunity to play a quarterfinal game at home. I know they'd love to see a full house. Our crowd has been a difference maker all season long, and our team is so appreciative of the support from both our student body and local communities," Richard said.
The home game is good news for a Warhawk team that is 14-2 at home on the year and has only trailed in 87 minutes of a possible 640 minutes. ULM also has the opportunity to tie its all-time record for home wins in a season at 15, which has been done once in 1978-79.