Future Warhawks take tour of bayou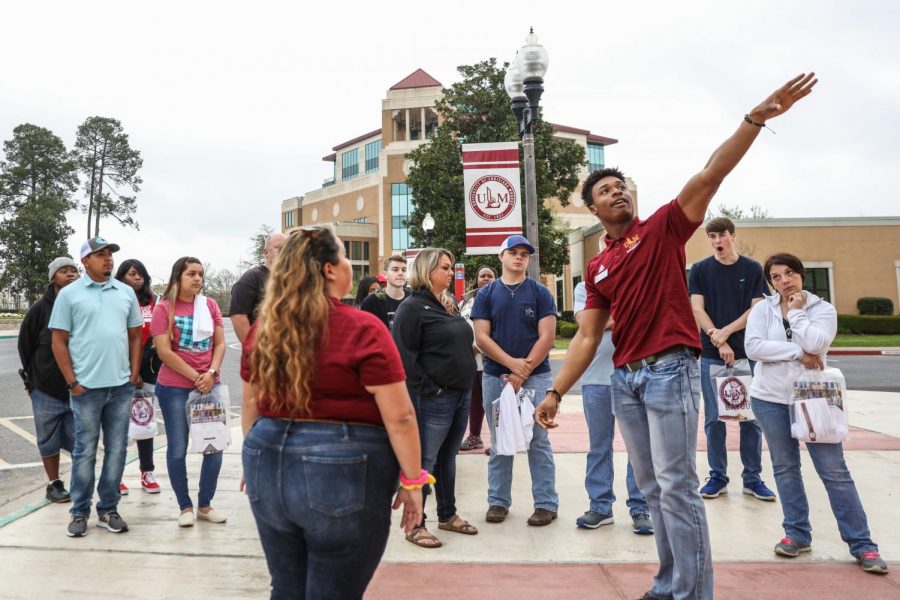 Jermiya Thompson, a senior from Caldwell High School, knew exactly what she wanted when she attended Browse on the Bayou on Saturday.
Five of Thompson's friends currently attend ULM and her brother used to be a Warhawk too.
She was set on joining the kinesiology program at ULM and living a life she had only heard about through her friends and family.
Thompson was one of the many visitors at the semiannual event that showcases life at ULM. Browse is a campus-visit day for high school juniors, seniors and transfer students.
Like always, this semester's Browse had many registered student organizations, Greek life and academic programs talk to eager visitors about the possible activities and involvements on campus.
"They were encouraging and enthusiastic. They had a personality just like me, and I liked it," Thompson said.
Prospective students were grouped according to their academic interest and given a guided-tour of the campus, residential buildings and the pharmacy school. Students and their parents learned about available scholarships and financial aid at the session, "Money Matter."
Cameron Gay and Ryan Blomquist were at the event representing their fraternity, Phi Mu Alpha Sinfonia. The fraternity is actively involved in promoting music both in the School of Visual and Performing Arts and in the community.
According to Blomquist, apart from allowing the organization to recruit possible members, Browse on the Bayou also provides students with plenty of time to decide what organizations to be involved in before they start their journey at ULM.
Gay, the president of Phi Mu Alpha Sinfonia, said, "It helps show the wide variety of interest at ULM."
Gay himself was a visitor at Browse a few years ago. He said that the amount of diversity in organizations at Browse has grown over the years which helps students of varied interests feel welcomed on campus.
The different groups were guided around campus by the ULM Hawkseekers. Ashish Dev was busy guiding his third Browse group as a Hawkseeker.
"Browse provides an excellent opportunity for high school juniors and seniors to learn about academic and student life at ULM," said Dev, a sophomore computer science major.
"I like working the event because it gives us an opportunity to show off our beautiful campus and the facilities it provides to prospective students," Dev said.
The next Browse is set for Nov. 9, 2019.