Annual exhibition awards students, provides professional platform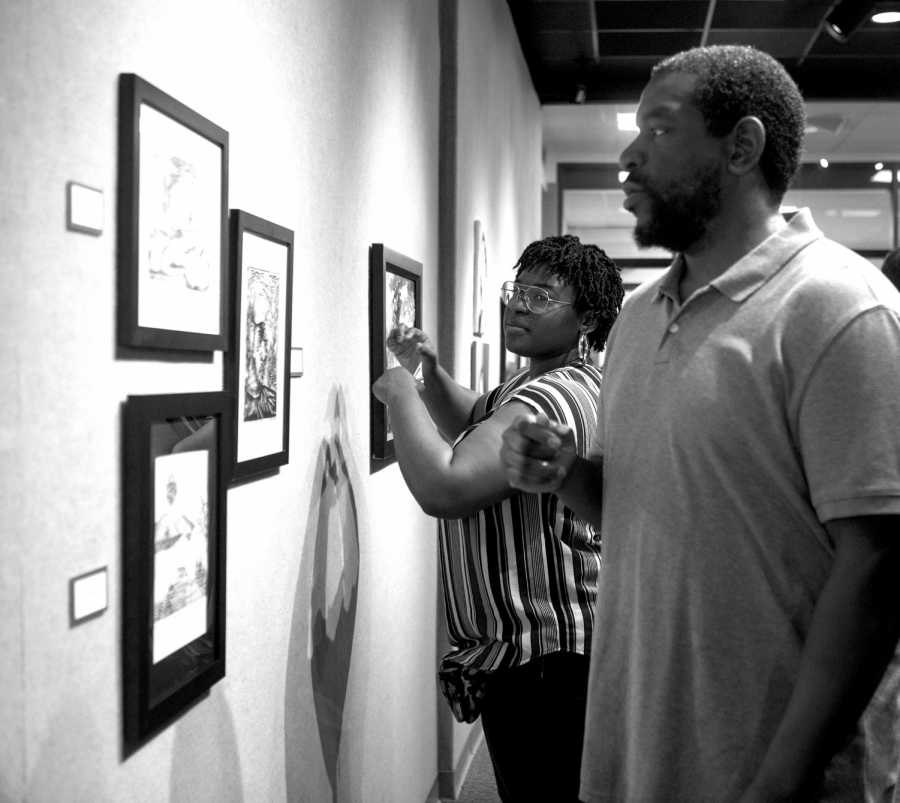 Kaile Finies had a bittersweet moment at the 22nd annual ULM Juried Student Art Exhibition on Friday in the Bry Art Gallery. Finies is a senior art major and this year's juried art exhibition was her last one as a student at ULM.
The annual juried exhibition recognizes student achievement in the visual arts and provides students with the opportunity to present at a professional level. It is open to all currently enrolled ULM students. Students have to be selected from an initial application pool to have their works displayed at the exhibition.
For Finies, even though she didn't win any awards, just having her work selected for the exhibition meant a lot to her.
"I'm grateful that I got accepted into the show and especially with an etching piece. My concentration is painting but I've been trying to branch out and try other forms of art and it paid off well this time," said Finies, a senior art major.
This year's guest juror was John Wagoner, assistant professor of art at Bossier Parish Community College.
The event had six monetary award categories. Katelyn Vaughan won the "Best in Show" for her art "House on the Water" along with a $200 cash prize.
"I really like thick paint and texture in my art so that's what I was experimenting with! The colors were a little bit different than what I normally like to use so I was excited that it came together and I learned something new," said Vaughan, a junior art major.
Taylor Barrere won the Art Program award and $150 for her "Stripped Ring Mugs." Janice Mott won the Ken O'Neal Alumni award and Anny Luttrull won the Graphic Design Award, both valued at $100. Sunil Bishwokarma, Inique Harris and Stephani Cogburn won the three Merit awards valued at $50 each.
Seven students also won the Administrator's Choice awards values at $100 each. Works selected for the Administrator's Choice awards will be displayed in the administrator's office for a year.