Record-breaker McKay says goodbye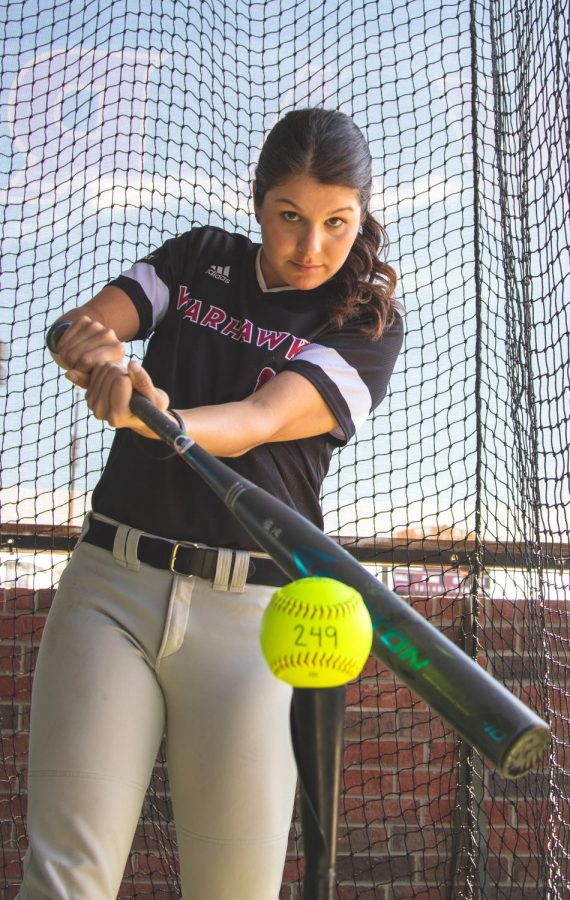 "Pippy, you get on, I get on, we run the bases all day long. Pippy, hit that ball!"
Pip, better known as Sydney McKay, hit the ball with a focus and intensity that is matched by very few as she broke the all-time hit record for ULM softball this season.
It all started with a little girl and a batting cage built by her father. Sydney's father, Mike, built a batting cage for her brother because of baseball, but it quickly became her second home as well.
"My mom would have to come get us because it was so late. There were no lights out there, but we'd turn the pool lights on and just stay out there," Sydney said.
Athletics came naturally for Sydney. But for a brief moment in time, there was a question whether softball would stick.
"I personally thought I was going to have a little ballerina. She took a couple of ballet classes and just wasn't feeling it," said Shelly McKay, Sydney's mother.
Sydney moved quickly up the ranks in public school and with travel ball. Her coaches had quite a lot to do with her success. However, when it came time to choose a school, Sydney was the only player on her travel ball team that was not committed anywhere.
In a tournament in Oklahoma, Sydney played against another girl that would change her life. That girl's father happened to be Corey Lyon, who, at the time, was head coach at Southern Arkansas University.
"Sydney's athleticism jumped out at me. I knew that she would be a dynamic offensive player and felt she had a lot of versatility on the defensive side," Lyon said.
Sydney would commit to SAU, but that wouldn't last for long. Lyon accepted the head coaching job at ULM the summer before Sydney's senior year of high school. Lyon instantly called Sydney and asked for her to make the trip to Monroe.
The rest is history.
During her collegiate career, Sydney has been a consistent centerpiece for the team and a leader to lean on.
"Sydney was injured in the first conference series last year. She played the entire season without missing an at bat and she never complained. She just went out there and did her job," Lyon said.
In fact, it was a pretty serious injury. Sydney was hit by a pitch and suffered nerve damage. She has since undergone two surgeries and will face a third after this season.
"I haven't felt my hand in a year," Sydney said.
However, this didn't stop Sydney and on April 2, 2019, the outfielder broke the all-time hits record for ULM softball. Current head coach Molly Fichtner had the pleasure of breaking the news to Sydney.
"I walked out to grab her elbow guard and told her 'Congratulations.' She had no idea. When I told her she broke the record, the look in her eye was priceless. It's just a testament to her focusing on the process," Fichtner said.
Due to the magnitude of the achievement, Mike McKay was only able to get out two words before becoming emotional- "It's awesome."
Now that Sydney's time is winding down, it's easy to reflect on the great times, but it's hard to say goodbye.
"It's coming to an end now and I'm crushed," Shelly McKay said.
However, Sydney will go down as one of the hardest workers in ULM softball history.
"As far as her work ethic goes, the hits speak for itself," Fichtner said.
Sydney, who graduates in May, has accepted a job with 49 Financial in Austin, Texas.
"They really like to help people and make a difference in people's lives. And that's what really spoke to me and made me commit," Sydney said.
However, Sydney has bigger plans than just being a financial professional.
"They said they had never had a woman CEO before. I'd like to be the first one," Sydney said.
All of Sydney's success can be traced back to a batting cage built by a father. However, the cage no longer exists.
"We used it during Christmas break and I knew that was going to be the last time we were in there together. But I just thought 'Wow, this is really about to be over'," Sydney said.
And as the cage came down, it could only be signified as a new chapter in everyone's life.
"This is all I've known since I was five and it's going to be gone just like that. But I'm excited for the future," Sydney said.
They say goodbyes are bittersweet. As Sydney puts it, "There's not going to be anything sweet about it."
Sydney may say goodbye to the field, but she will never leave the Warhawks' hearts.