Meet new head women's basketball coach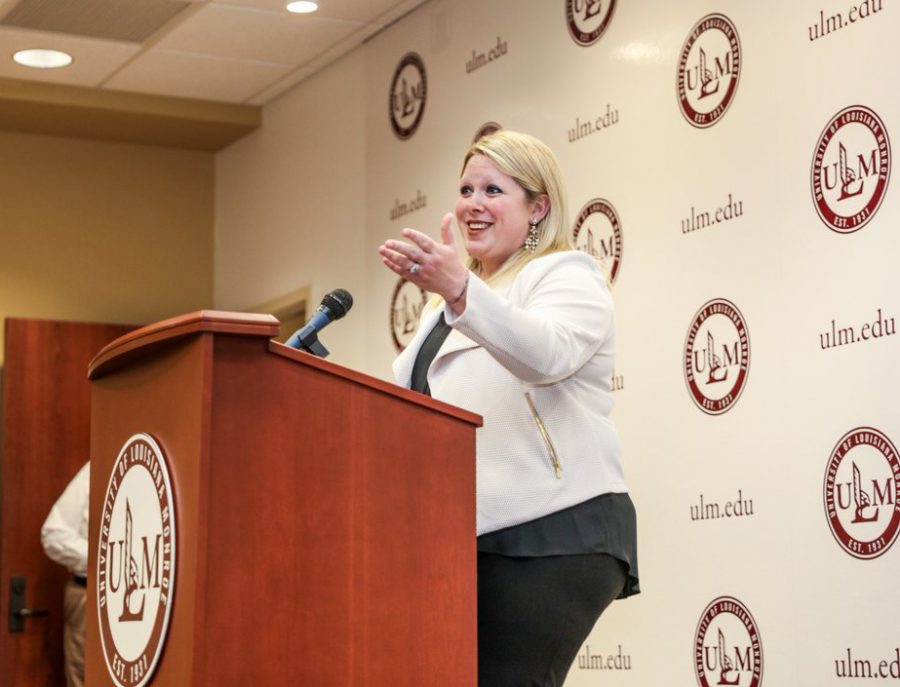 Every new head coach usually has the same response when they are asked what they want to do with their new team: change the culture. However, each coach has their own way of changing the culture. New head women's basketball coach Brooks Donald-Williams has a very simple philosophy.
"I've got a three-year-old and a husband and we're trying to buy a house with a living room big enough for the team. We want an outdoor area big enough for them to be a part of our family. That's who we are," Williams said.
Williams has finally come full circle and come back to Louisiana. The Jennings native grew up playing basketball, but knee injuries cut her career short. However, a family tradition of attending Mississippi State kept her motivated to keep going, even with her injury.
Williams stuck around Mississippi State and learned from some of the best coaches in the country. But that wasn't her first stint at coaching. Williams had started coaching and teaching fundamentals as young as a freshman in high school.
"When you were in high school, you coached the nine and 10-year-olds. And when I was playing AAU in Lafayette, I was coaching some of the younger AAU teams," Williams said.
Williams' first head coaching job came at a young age and she was tasked with a huge undertaking. She was hired at McNeese State and asked to turn the program around. It wasn't easy.
"That first game, there weren't 50 people in the stands. And that's if we counted the pep band," Williams said.
Williams went home that night and tried to think of ways to turn things around. She didn't want her team to go out there and not play in front of people. By the end of the year, the team was playing with a new life.
Williams went on to secure a record of 161-130 at McNeese State and became the winningest women's basketball coach in the university's history.
She also had four 20-win seasons, reached the the NCAA tournament, the Southland Conference tournament on several occasions and was named the 2011 Southland Conference Coach of the Year.
"I didn't really understand then how big it was," Williams said. "If I could go back and do one thing, it would be to stop and really enjoy the experiences."
After a successful career at McNeese, Williams felt that it was time to take on a new challenge. Williams accepted the position as the assistant coach at the University of Alabama under ULM alumni Kristy Curry.
In her three years at Alabama, Williams helped lead three players to 1,000-point careers and was known as a prolific recruiter.
As Williams puts it, recruiting is both easy and difficult.
"We're looking for people with great character, integrity and great work-ethic. And sometimes we have to decide if we can teach that work-ethic. If the risk is too great and we're ok playing against them, we'll play against them. If we don't want to play against them, then we better find a way to get them here," Williams said.
When the ULM job opened up, Williams had a strong draw to the university. Williams had worked with football head coach Matt Viator at McNeese. He was a strong selling point.
"Coach Viator really talked about how things felt different here. And he was right. I felt that. Once I met the administration and saw the passion and fire that they had to want to be great here, it really turned things for me," Williams said.
On April 9, 2019, Williams was named the new head women's basketball coach.
"Something drew me to this opportunity. And that's what it is-a great opportunity. These student athletes looked like they were just in need of something," Williams said.
Williams is committed to bringing a new spark to this team and bringing new life to the program without making things too complicated.
"I hate to burst everybody's bubble, but it's not about that perfect play. It's more about what's in that kid's heart. Can they run through that brick wall and do they think they can?" Williams said.
The expectations for the first season are simple on paper, but can be an undertaking if the right person isn't in charge.
"If we can work daily on setting a strong foundation and getting our culture in place, that would be a huge accomplishment," Williams said. "Until you do that, you can't do anything else."
Like most adults, building trust can be difficult. We can be hesitant and need time to build respect. However, Williams is ready to take that challenge head on.
"It's not a job. It's never been a job. As much time as we all spend together, being a family is the only way I've known it to work," Williams said.
Williams will be ready to hit the ground running with her new family.