School of education awards Emily Ogden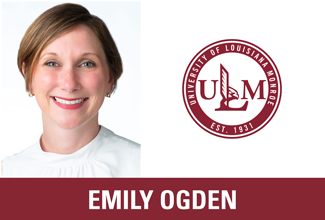 Success often comes after one has worked hard day in and day out. ULM alumna Emily Ogden found this to be true when she was recognized as the Louisiana High School Teacher of the Year for 2020 and then was awarded $500 by ULM's school of education for her achievements.
Every year, the Louisiana Department of Education shows appreciation to teachers and school leaders by annually partnering with Dream Teachers and the Louisiana Association of Principals to participate in the Teacher and Principal of the Year program.
This year, over 67 Louisiana school systems nominated teachers and school leaders for the Teacher and Principal of the Year program. On July 19, finalists and semi-finalists were honored at the 13th Annual Cecil J. Picard Educator Excellence Awards Gala.
Ogden wasn't expecting one of the professors that inspired her early in her career to present the $500 award to her, but that is exactly what Dr. Shalanda Stanely did.
"When Dr. Stanley walked to the podium at the Richland Parish General Assembly…I was completely surprised to be recognized by the ULM School of Education and to be given scholarship money to assist in furthering my education," Ogden said.
Ogden was a student in Dr. Stanley's literacy method course. There, Ogden was given a piece of advice that would later become her mantra, "Students are only going to rise to the expectation you set for them, so always set the bar high."
"Emily was an outstanding student," Dr. Stanley said. "She loves children and is motivated to help them reach their potential. She has made a tremendous positive impact on her students' performances in the classroom."
Ogden credits her growth and success to the many teachers she's had throughout her life.
"I believe they helped me become the person I am today and the only way I could repay the debt was to give back to the students of my home, Richland Parish," Ogden said.
Now, Ogden loves getting to be a part of these children's lives and building relationships with her students like all of the teachers she had before did with her.