Taco Tuesday at it's finest with Kahlo Tapas & Tequila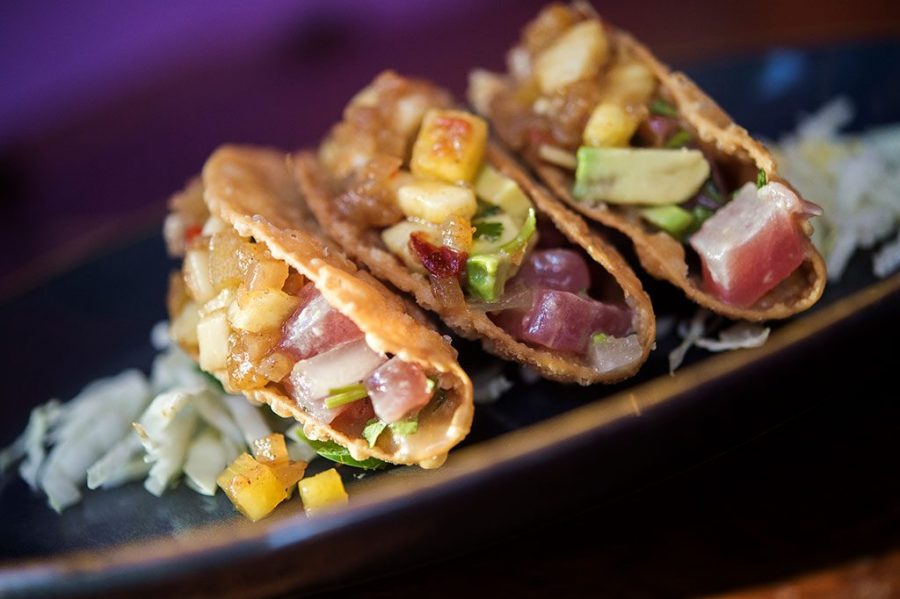 Kahlo Tapas & Tequila is an alluring venue to eat dinner or grab drinks with friends. One of the newest restaurants in town will keep you coming back to try everything on the menu especially with its variety of food and tequila.
Though traditional in some ways, the restaurant has a lounge feeling. There are normal chairs and booths, but if you are feeling more adventurous you can choose to sit in the dim mood lights on comfortable velvet couches.
Between the comfortable seating arrangements and wall murals that are a mixture of Frida Kahlo's art and Dia de los Muertos imagery, you feel as if you are in a different time and place with your dining experience.
The best day to eat at Kahlo is Tuesday so that you can get their delicious $1 tacos. With seven meats to choose from, you can get a whole plate of different styles of tapas tacos.
That is exactly what I did last Tuesday when I dropped in for some tacos. I was not let down by any of the tacos and I cannot wait to go back and try them all again.
If you want more than tacos, don't be worried. There is an extensive menu that ranges from authentic elote to quesadillas to huevos rancheros. No matter what you are looking for, Kahlo has the food for you.
After all the food, you are definitely going to be thirsty. Kahlo has an extensive drink list as well. My personal favorite is the Vampiro. It is a mixed drink that is made from tequila and Viuda de Sanchez. If you are looking for a refreshing, tangy drink, this is the one to choose.
A crowd favorite is called the Michelada. It is Mexico's version of a bloody mary made with your favorite Mexican beer. There are also traditional margaritas, tequila sunrises and for the bravest of visitors, all kinds of straight tequila that can be shot or sipped.
Kahlo Tapas & Tequila may be one of the newest places to eat in Monroe, but it is off to a great start. Its diverse and extensive menu of food and drinks will leave anyone satisfied. If you are looking for a delicious meal in the heart of downtown Monroe, head over to Kahlo for Taco Tuesday.