Warhawks sweep first 2 games, lose last at tournament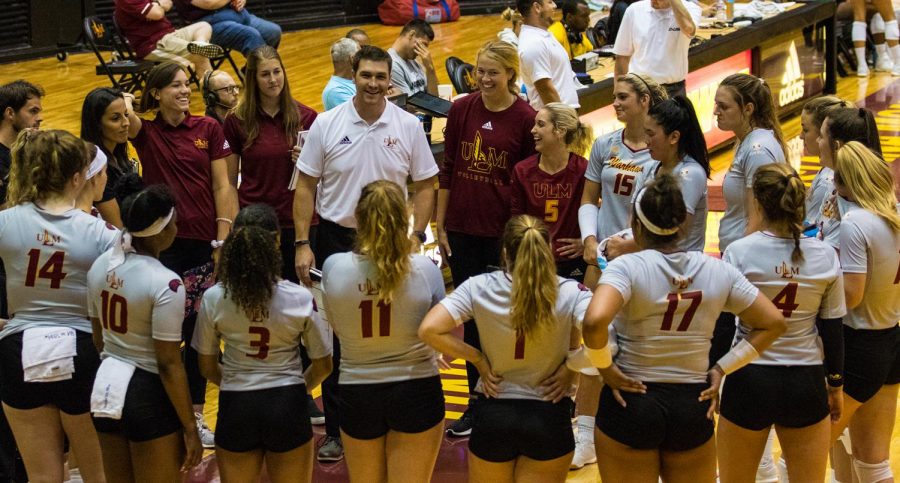 ULM volleyball continued its road schedule down I-20 competing in the Louisiana Tech Invitational.
Over the weekend, the Warhawks went two and one in tournament play and swept both Mississippi Valley State and Nicholas State in three sets before falling to rival Louisiana Tech in three sets.
The first day, ULM dominated Mississippi Valley and swept the Devilettes by an average of over six points per set.
"It wasn't the prettiest volleyball, but as the match continued, we became more comfortable in the gym," head coach Charlie Olson said.
The Warhawks were led by both junior outside hitter Mikaela Worley and freshman setter Darby Fisher. Worley had 13 kills and Fisher ended with 20 assists.
"Overall, it was a good opening game for us. We walked out of the gym going 1-0," Olson said.
The second day of the Tech Invitational started well for ULM, as the Warhawks battled with Nicholas State to sweep the match.
The Colonels though were no easy sweep. The first set would take a hard fight by the Warhawks, winning 25-21. The Colonels would not go away against ULM in the second set and forced extra points before the Warhawks won, 28-26. To complete the sweep, ULM would need no extra points, and won 25-19.
"We were very happy with the outcome," Olson said. "We controlled the tempo of the match from our first touch on the ball."
Much like the Colonels, the Warhawks gave the Lady Techsters a hard fight, but ultimately were swept too.
During the first set, ULM threw all they could at Louisiana Tech, and fell 26-24. The second and third sets would be defined by runs by the Lady Techsters. Two separate runs of over five would be the difference makers in the sweep, the Warhawks dropping them 25-17 and 25-16 respectively.
"I'm so glad we get to face [Tech] in our gym later this season and give us a chance for redemption," Olson said.
Sophomore outside hitter Kate Blasingame and Worley were both given all-tournament recognition.
The Warhawks will continue their road stint next week by traveling to Lake Charles on Friday to face off against both Grambling State and McNeese State before returning home Sunday to play McNeese again.