Football returns home to face South Alabama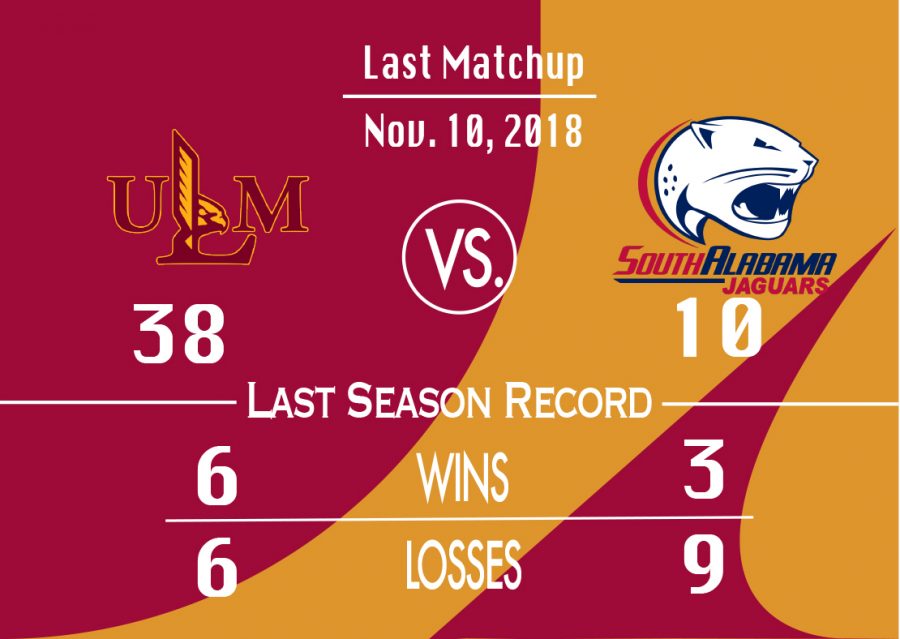 To open up conference play the ULM Warhawks (1-2) will return home to play conference foe South Alabama (1-3).
The Warhawks have dropped consecutive games to Power Five opponents in Florida State and Iowa State.
While the FSU game was close, the Cyclones blew the socks off of ULM and won 72-20. The Warhawks must get back on track and beat South Alabama.
The Jaguars are a running team, with over 170 rushing attempts over their four games to just 96 passing attempts. For perspective, the Warhawks have seven more passing attempts in three games to the Jaguars four with 103.
The rushing attack is led by three players, senior running back Tra Minter, redshirt freshman Jared Wilson and sophomore quarterback Cephus Johnson.
The three have already combined for 108 carries and 599 yards.
On defense, the Jaguars have forced five interceptions and five sacks through three games.
The pass rushing leader is senior defensive lineman, Jeffery Whatley who is leading the team with one and a half sacks.
The turnovers are by committee with five different players having an interception.
To win the first conference game of the year, the Warhawks must improve in four areas. ULM must start faster and must stop the Jaguar rushing attack.
Over the first three games, the Warhawks are being out scored 34-7 in the first quarter.
Going down that early is hard for ULM as a team since keeping the offense balanced is a key to success.
If the Warhawks can come out scoring early in the game, the crowd can get into the game and the Warhawks can use their ballhawking defense to get the ball back for more points.
For ULM to win against the Jaguars, the Warhawks must stop the run. Through three games the Warhawks have given up 244 rushing yards a game.
Against South Alabama, ULM can not allow that. The Jaguars will run all the way back to Alabama with a win.
The Warhawks should beat South Alabama during Military Appreciation Night and get back on track to reaching their Bowl Game aspirations.